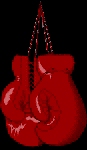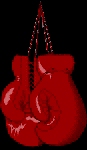 HOLDER OF THE PROFESSIONAL LIGHT HEAVYWEIGHT KICKBOXING
IKF SOUTHERN AREA TITLE - ISKA BRITISH TITLE - GOLDEN BELT BRITISH TITLE
ISKA COMMONWEALTH K1 TITLE - ISKA EUROPEAN TITLE
Ranked No 2 in the World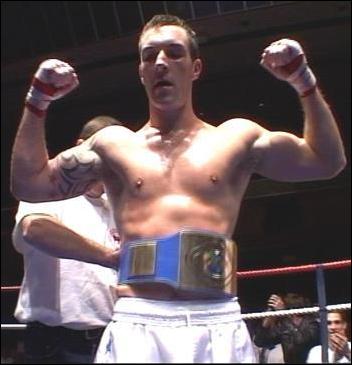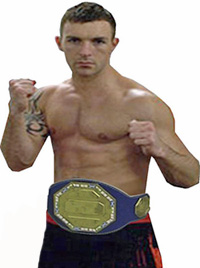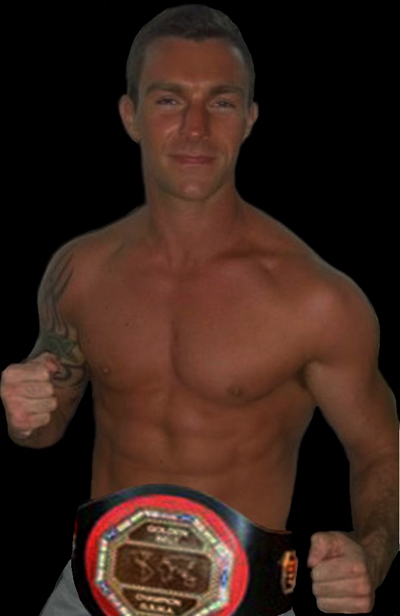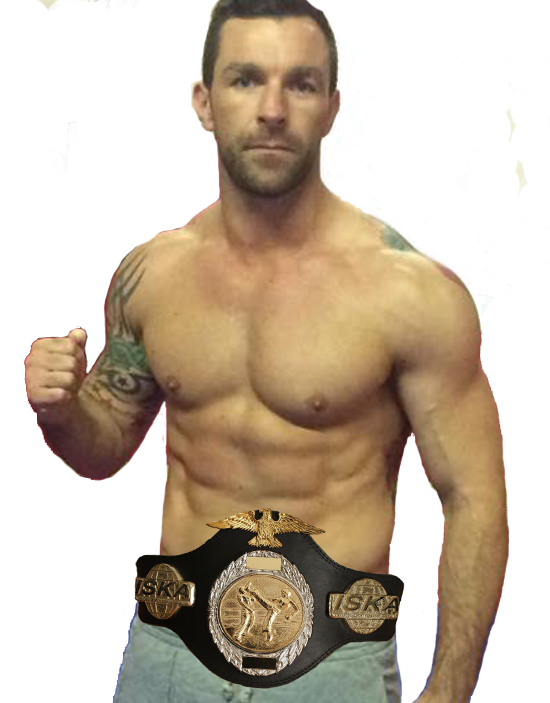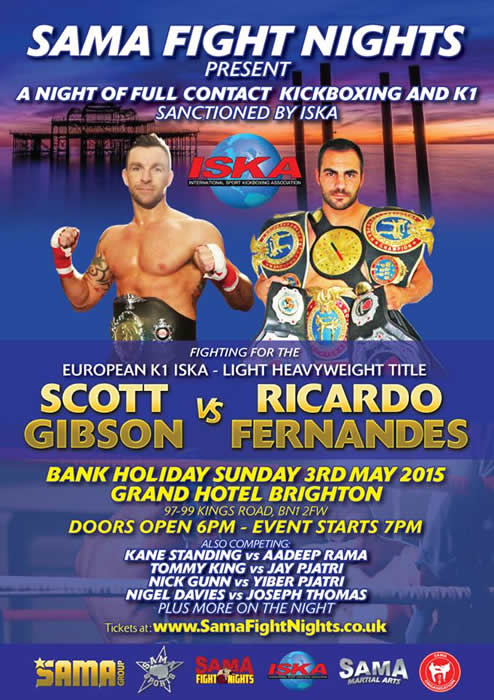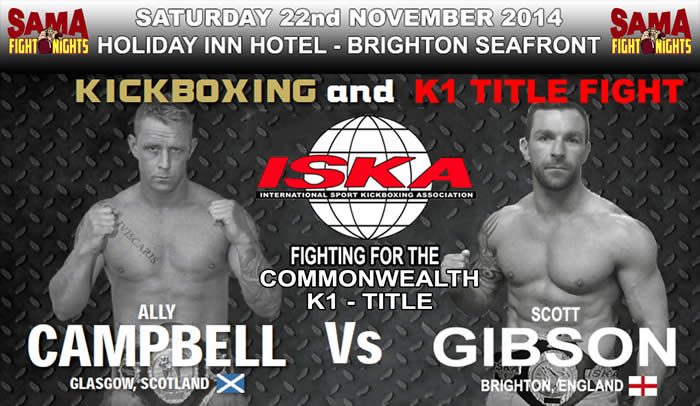 SCOTT WINS THE ISKA COMMONWEALTH K1 TITLE, BEATING TOUGH SCOTTISH CHAMPION ALLY CAMBELL
WITH A STOPPAGE IN THE FIRST ROUND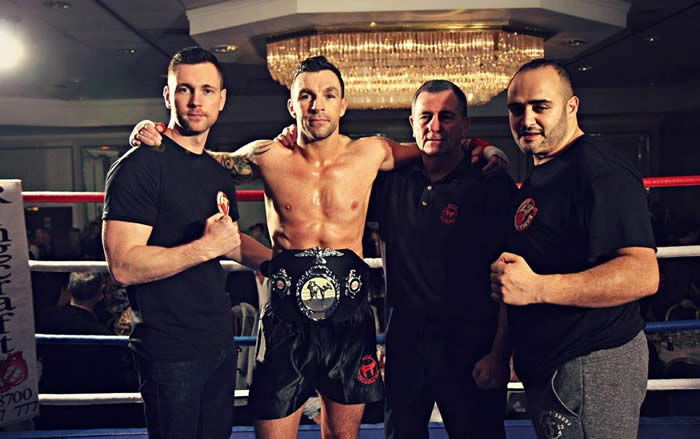 PROFESSIONAL FULL CONTACT KICKBOXING
ISKA EUROPEAN TITLE FIGHT 2011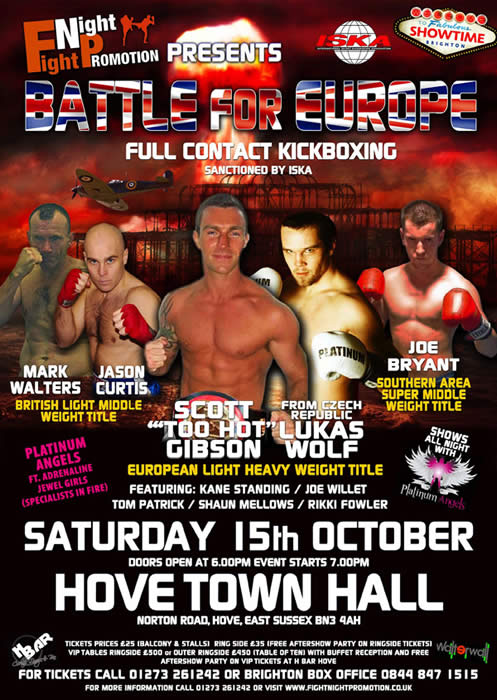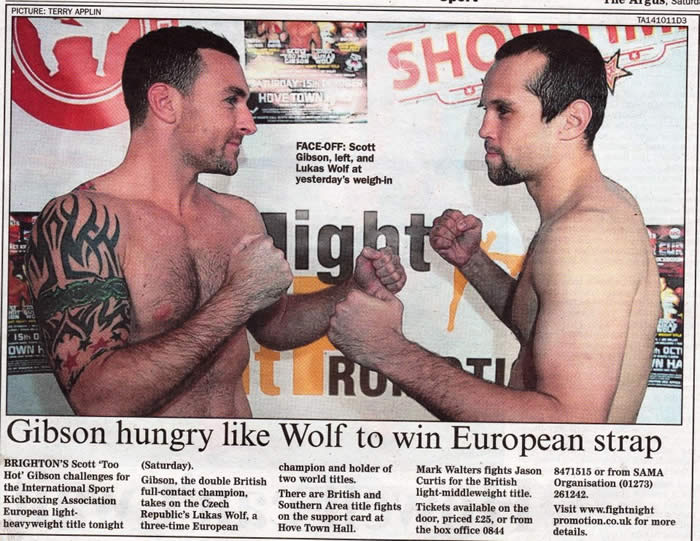 Fighter Stats 2011
Lukas Wolf
100 plus fights in Full Contact - MMA - K1
2 times Former World Champion - 6 times Czech National Champion - 3 times European Champion
Lukas Wolf has fought many of the Word's top fighters and is recognised as Czechoslovakia's top fighter
Scott Gibson
23 fights in Full Contact & K1
Undefeated IKF Southern Area Champion - Golden Belt British Champion - ISKA British Champion
A tremendous win for Scott, especially as he has only fought only twice in 2 years prior to this fight due to an injury
This proves Scott's strong determination, strength and ability to beat one of the Worlds top rated
kickboxers with such ring experience and skill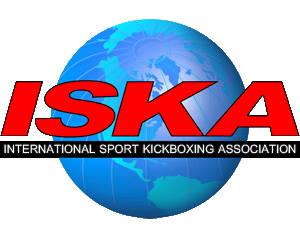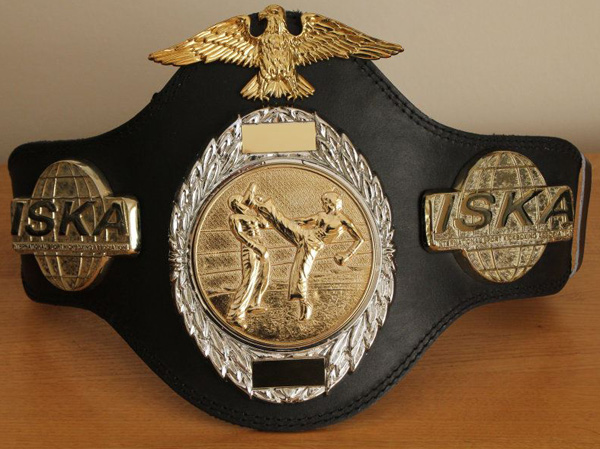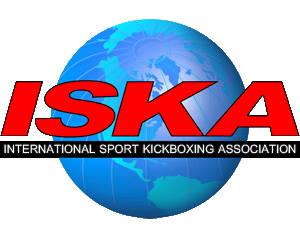 12 ROUNDS OF NON STOP ACTION - SCOTT WINS BY UNANIMOUS DECISION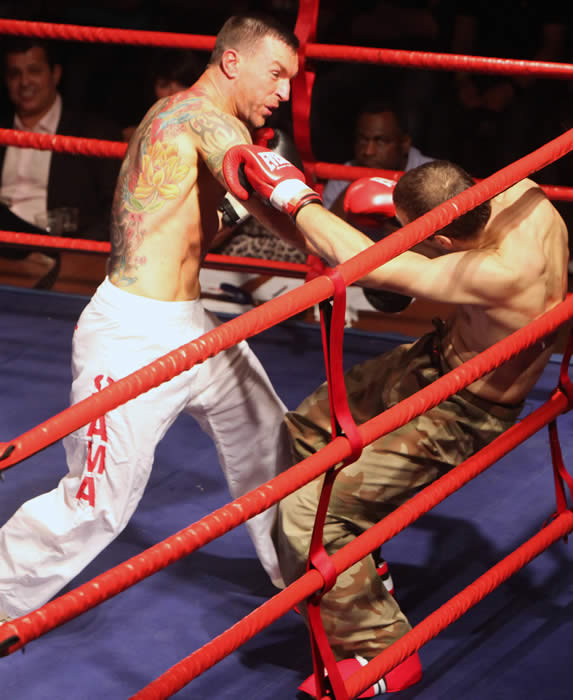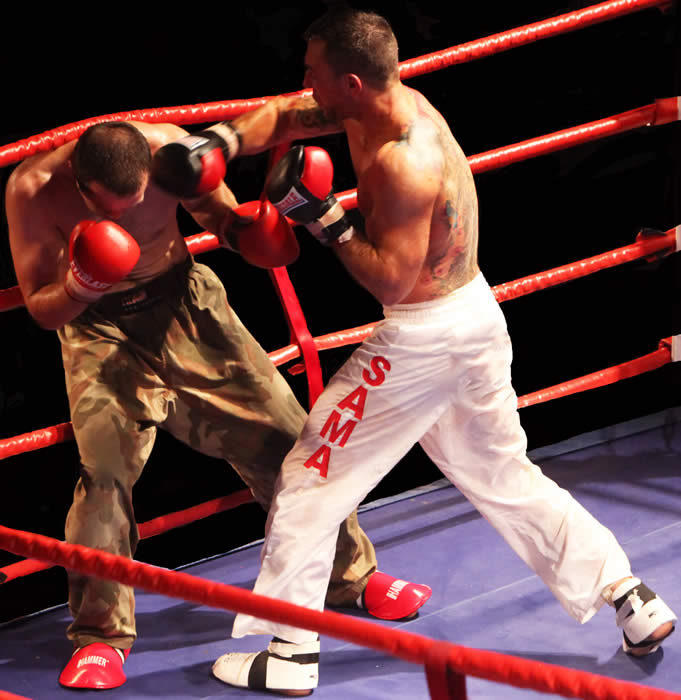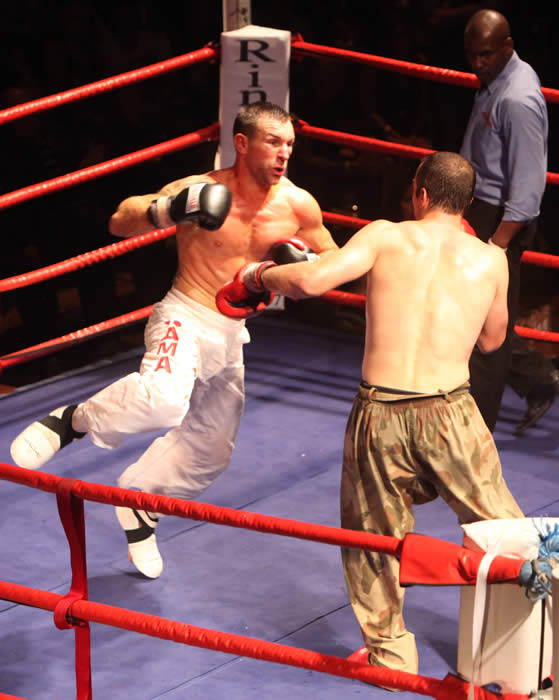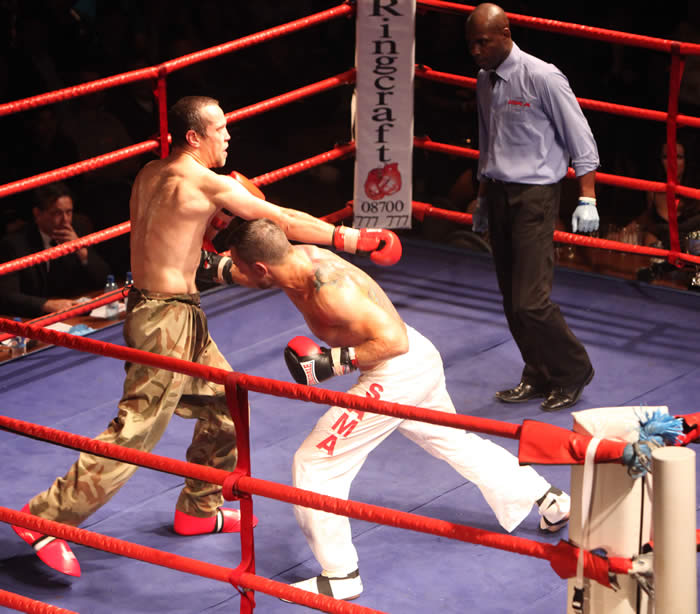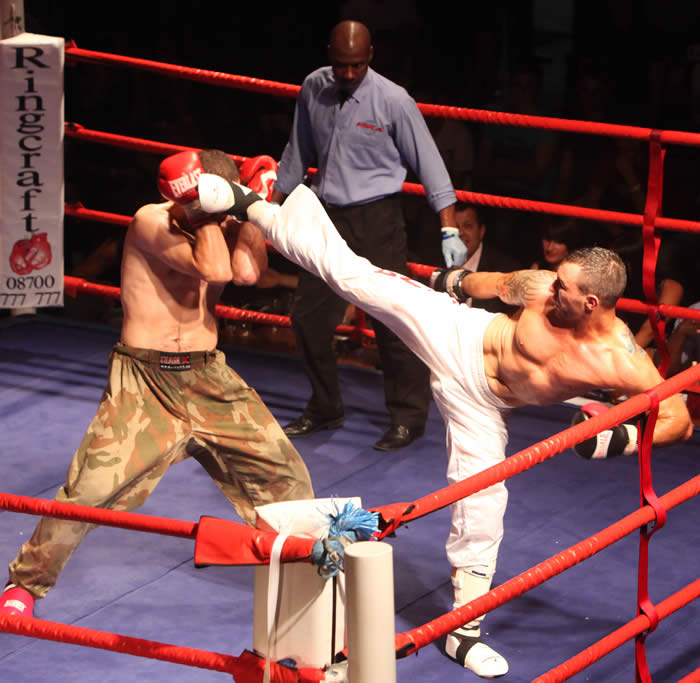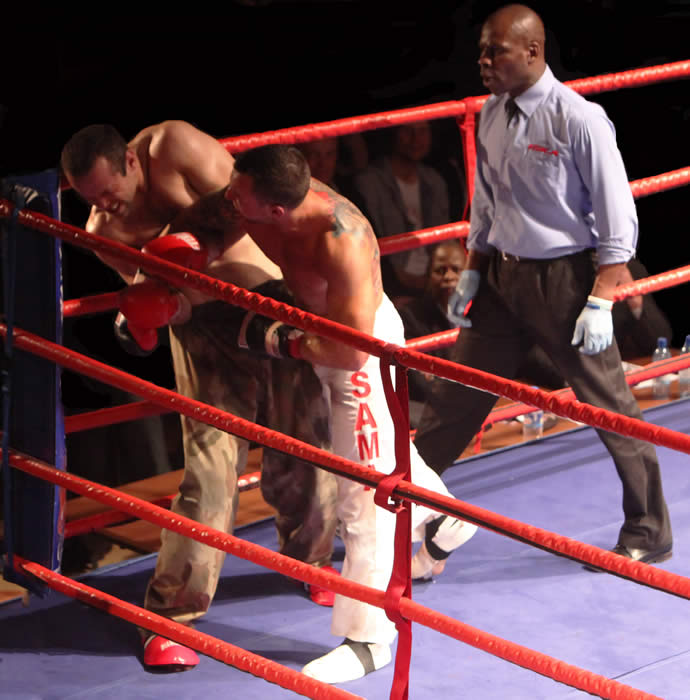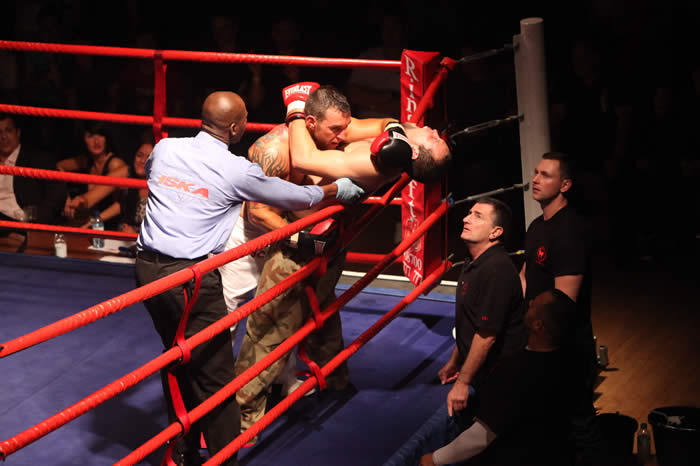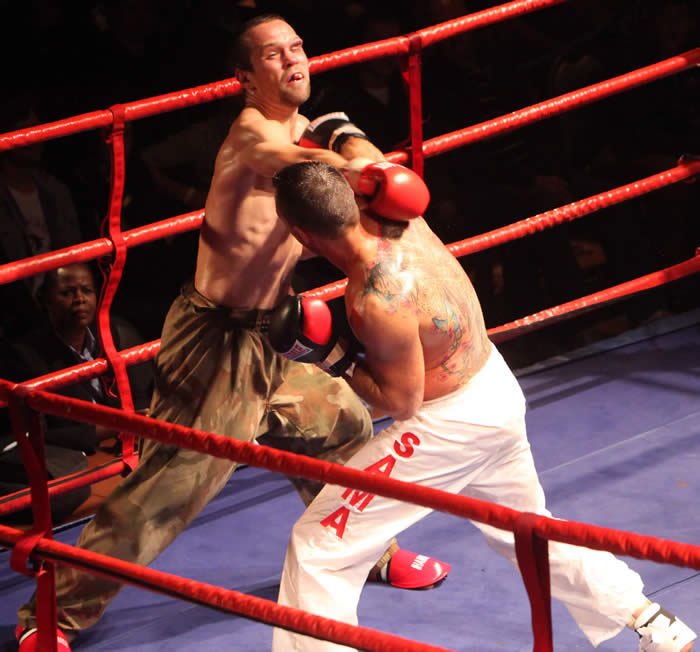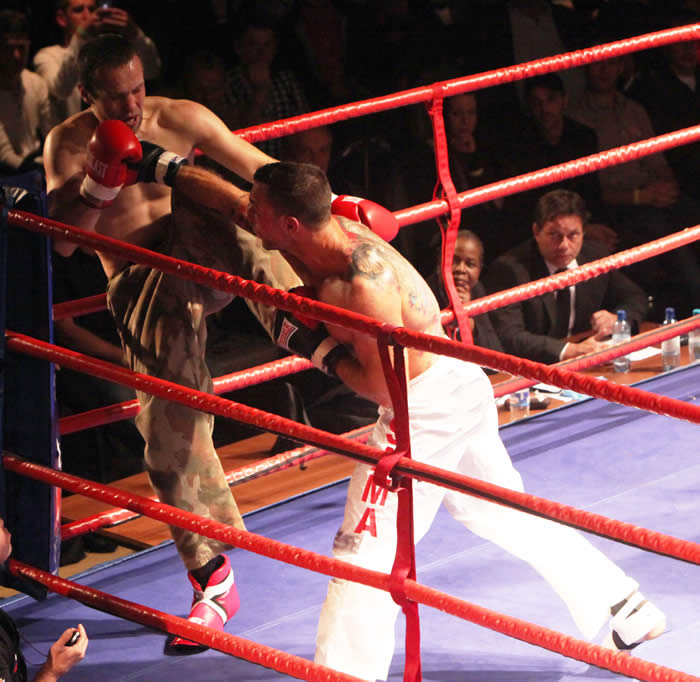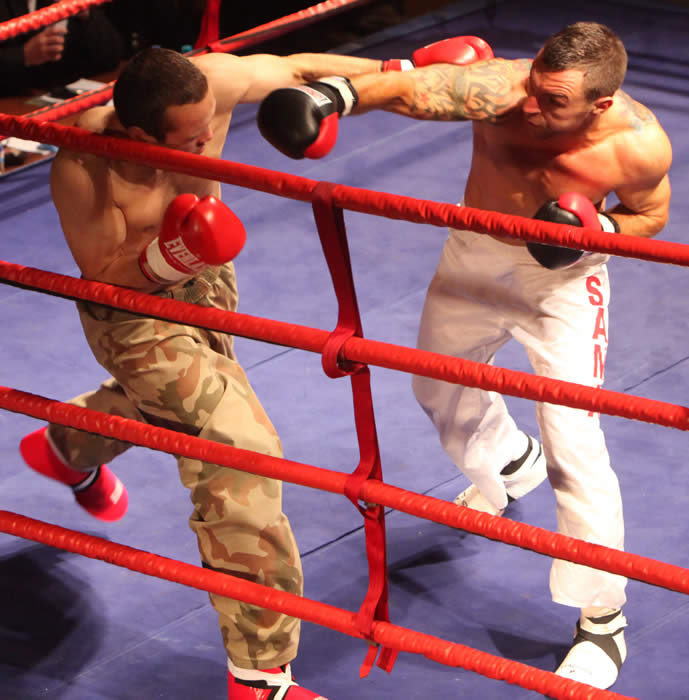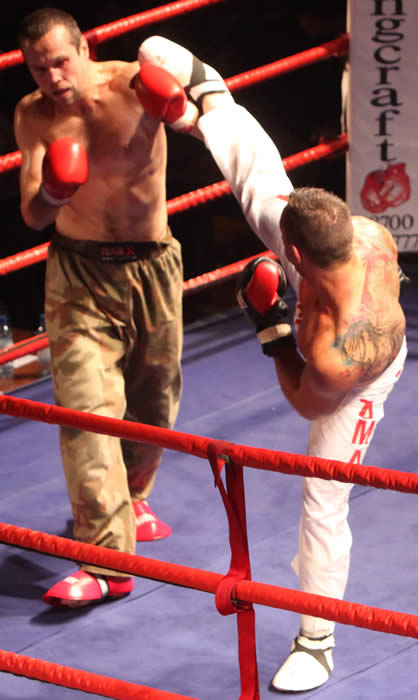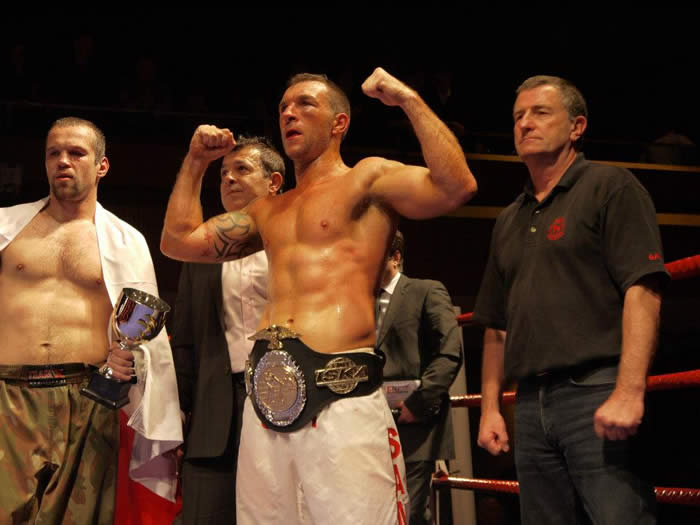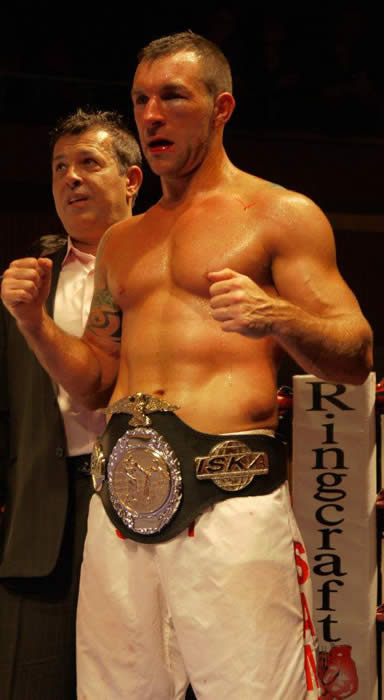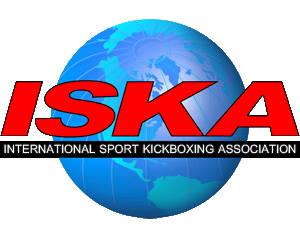 ISKA UK AWARDS
These awards are exclusive to fighters, trainers and promoters
who were involved in ISKA sanctioned events during 2011.
The nominees and winners were selected by the ISKA UK Board of Directors 2012
Pro Division
FIGHT OF THE YEAR 2011
(Kickboxing)
Nominations
Andrew Tate v Jean-Luc Benoit
Daniel Quigley v Pacome Assi
Scott Gibson v Lucas Wolf
Winner: Scott Gibson v Lucas Wolf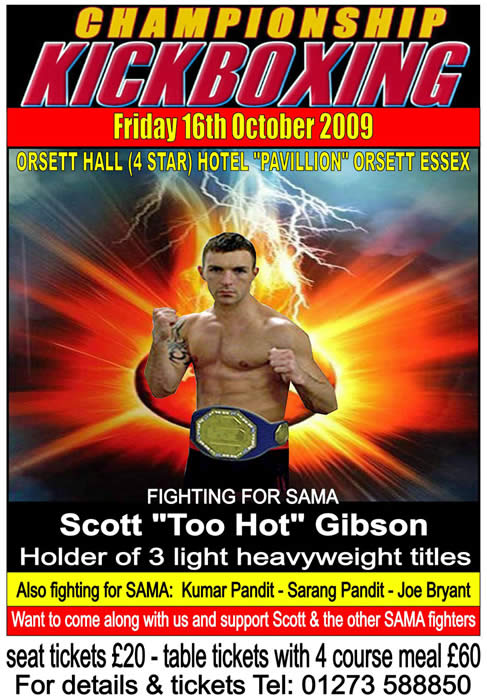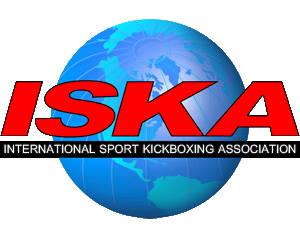 SATURDAY 25th JULY 2009
SCOTT TAKES THE PROFESSIONAL ISKA LIGHT HEAVYWEIGHT
FULL CONTACT BRITISH KICKBOXING TITLE
9 X 2 MINUTE ROUNDS
CIRCUS TAVERN ENTERTAINMENT COMPLEX, PURFLEET, ESSEX
AGAINST REECE ROWELL FROM THE AVELEY GYM
THE AVELEY GYM IS REGARDED AS THE TOP KICKBOXING CLUB IN ESSEX
ISKA IS ONE OF THE WORLDS LARGEST KICKBOXING SANCTIONING GROUPS FOUNDED IN AMERICA
SOME FAMOUS NAMES ARE ATTACHED TO ISKA SUCH AS CHUCK NORRIS & VAN DAMM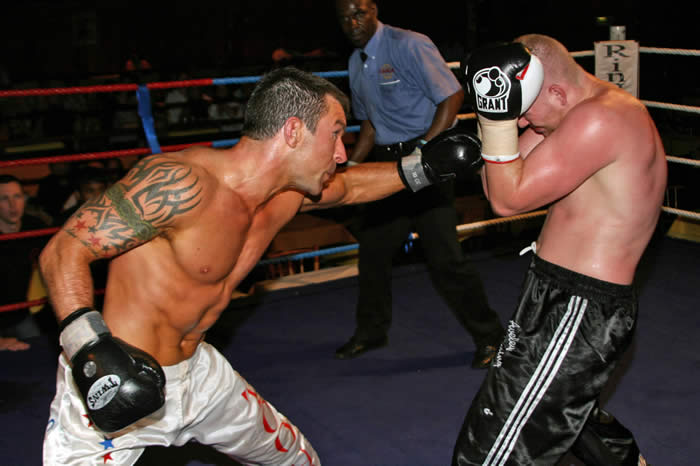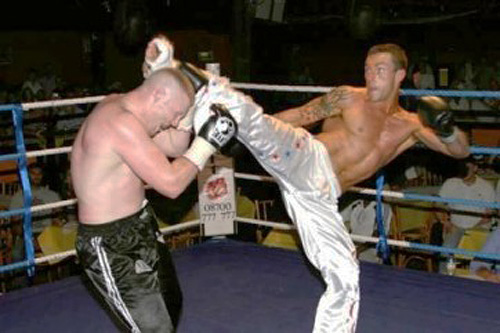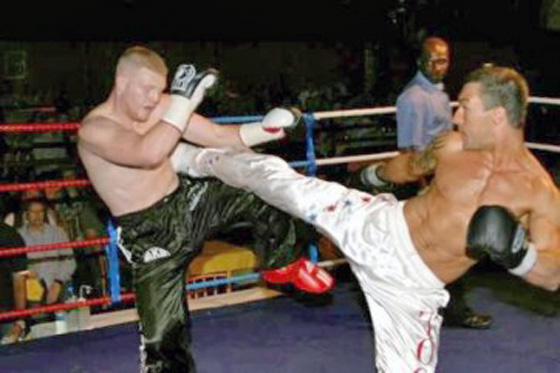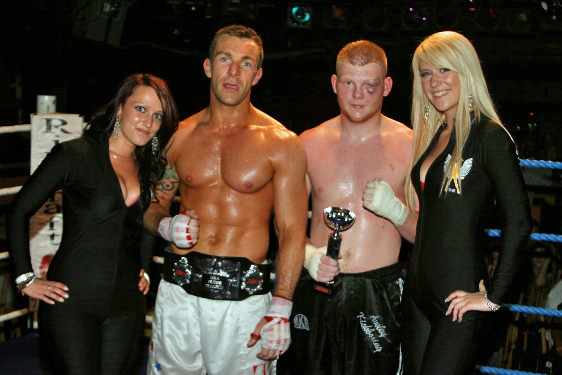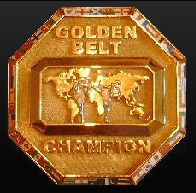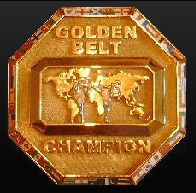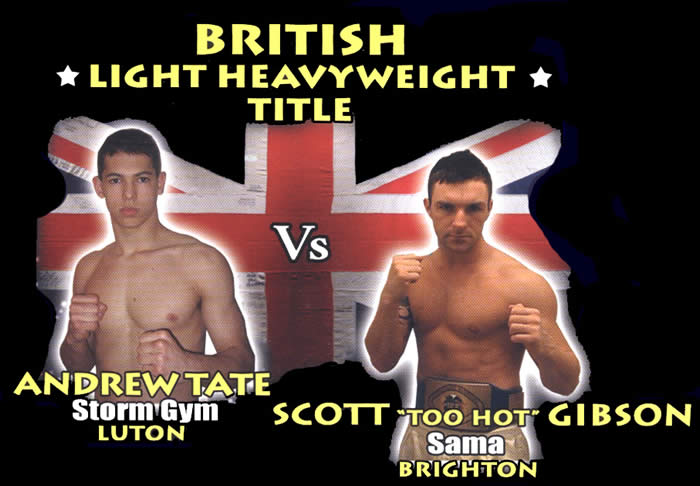 7th April 2007
Scott wins by KO in the 4th round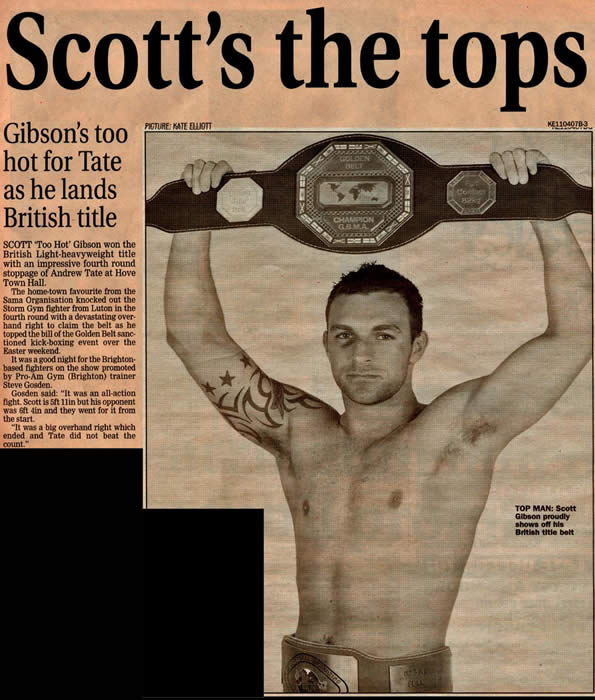 taken from the Sports Argus newspaper April 14th
"Scott "Too Hot" Gibson won the British Light Heavyweight title with an impressive fourth round stoppage of Andrew Tate at Hove Town Hall. The home favourite from the SAMA Organisation knocked out the Storm Gym fighter from Luton with a devastating overhand right to claim the belt as he toped the bill of the Golden Belt sanctioned kick boxing event over the Ester weekend.
It was an all action fight, Scott is 5ft 11in but his opponent was 6ft 4in and they went for it at the start.
It was a big overhand right which ended the fight, and Tate did not beat the count."
Scott is the only light heavyweight win the prestigious Golden Belt Title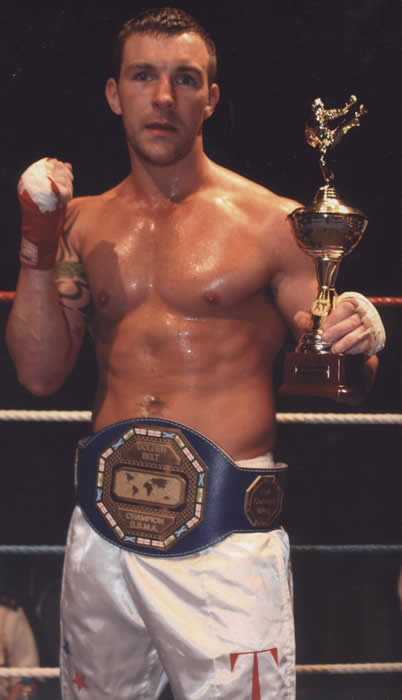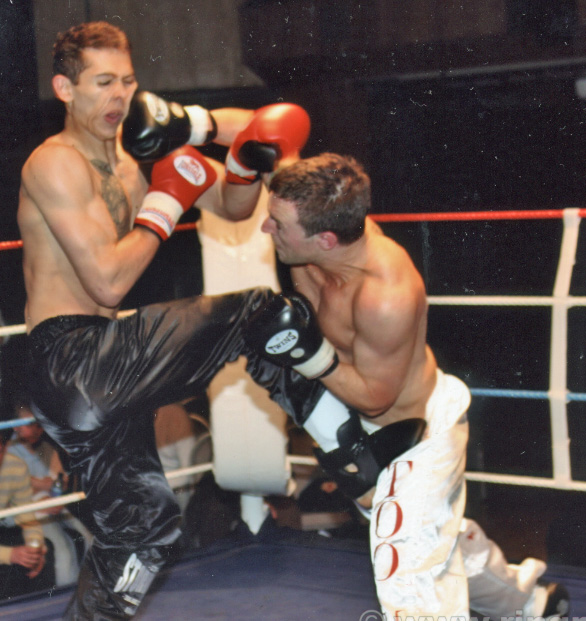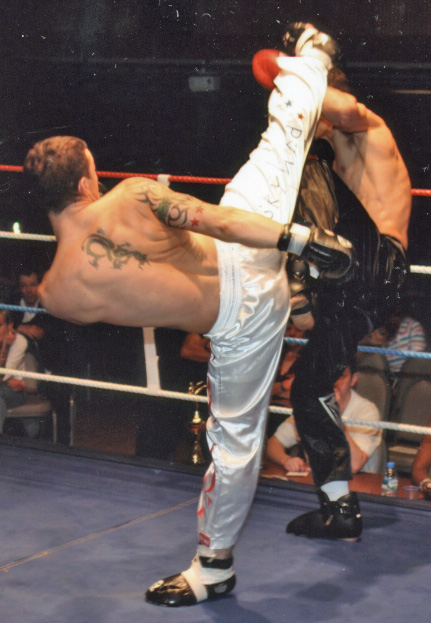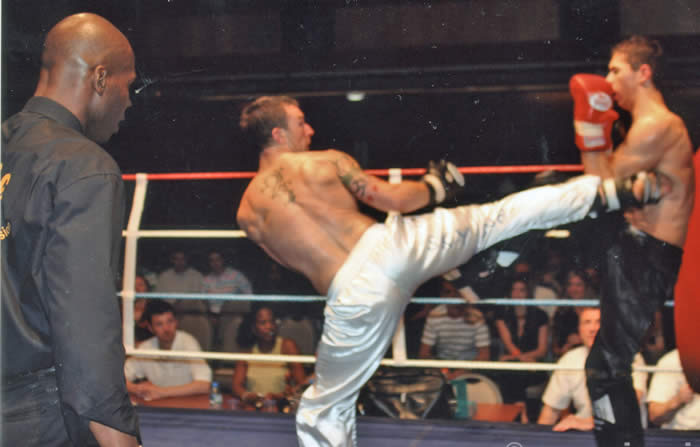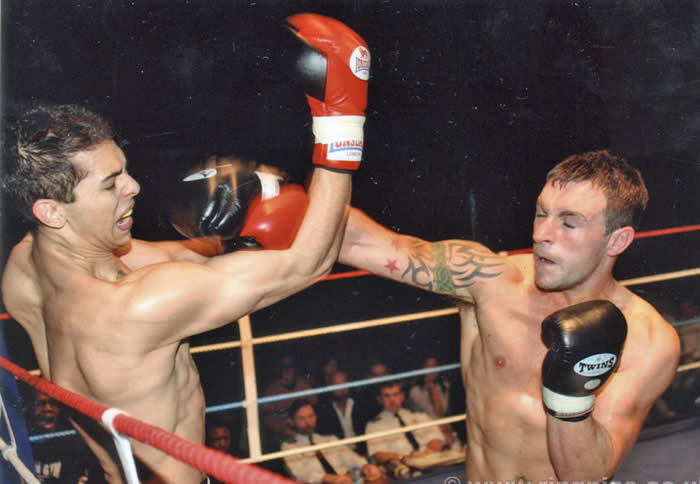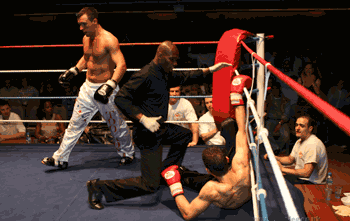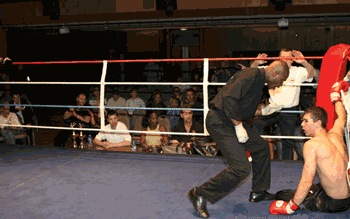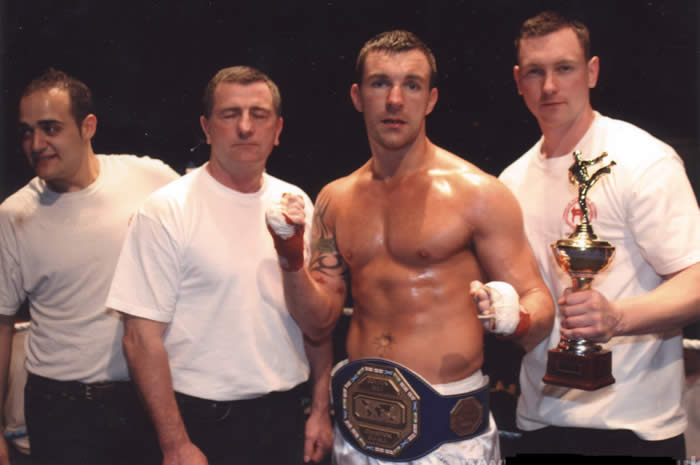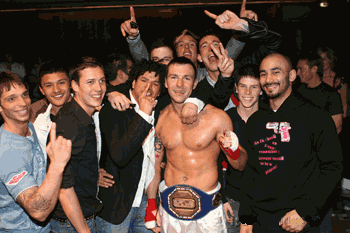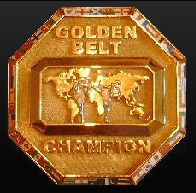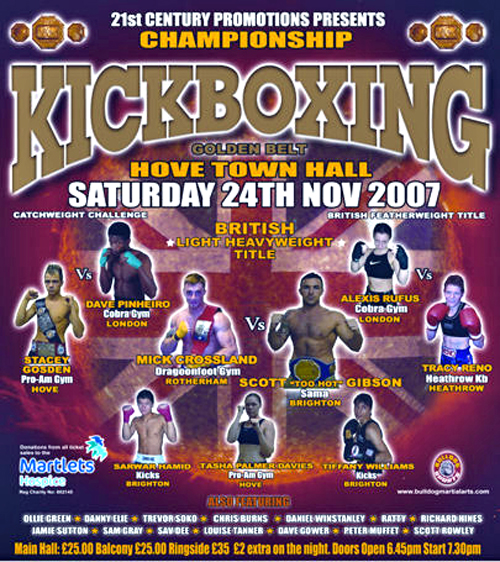 Hove Town Hall, England 25th November 2006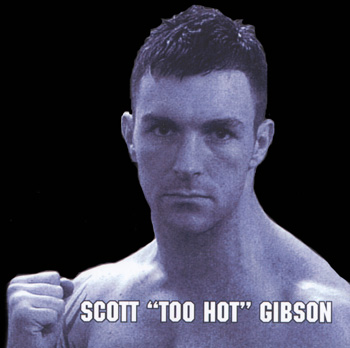 WINS THE I.K.F. SOUTHERN AREA
LIGHT HEAVYWEIGHT KICKBOXING TITLE
Scott Gibson (SAMA, 81.2kg) Vs Andy Pollard (TS Kickboxing, 79.5kg)
Scott "Too Hot" Gibson wins by unanimous decision
5 ROUNDS OF NON STOP

Malcolm Martin, Editor of Fighters Magazine
& MC of the night said about the fight;
"THIS IS WHAT KICKBOXING IS ALL ABOUT"
"THE GREAT KICKBOXING FIGHT OF THE YEAR"
"THESE TWO FIGHTERS HAVE DONE KICKBOXING PROUD"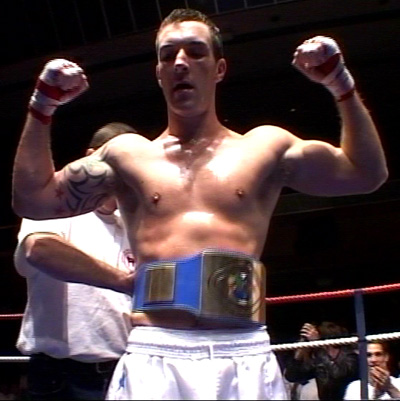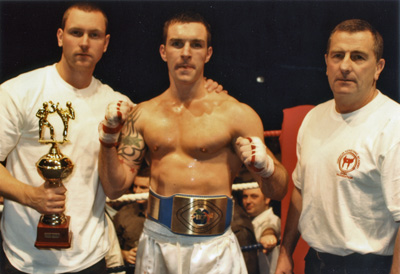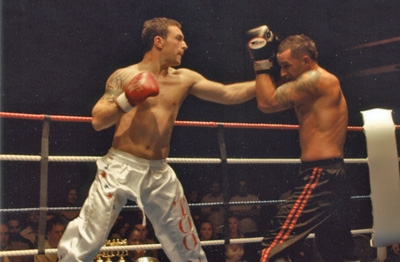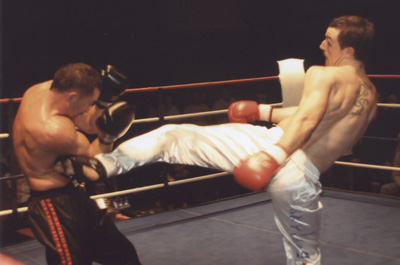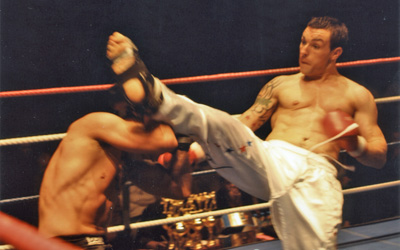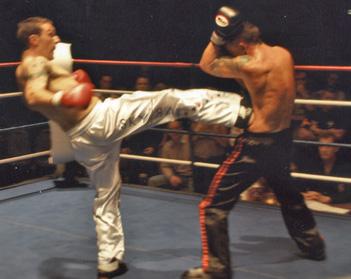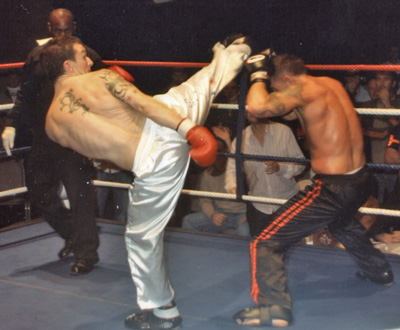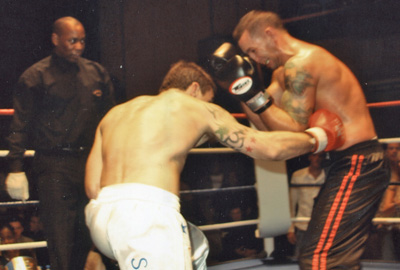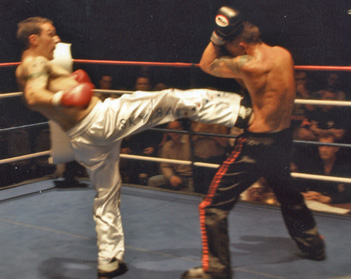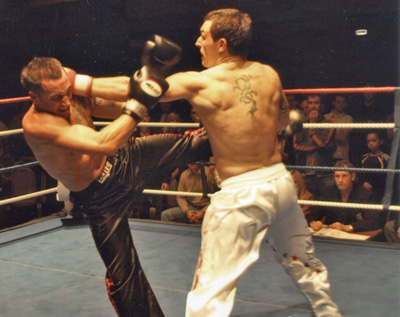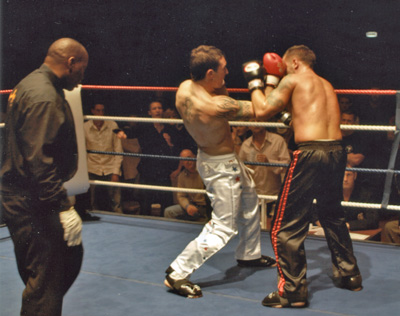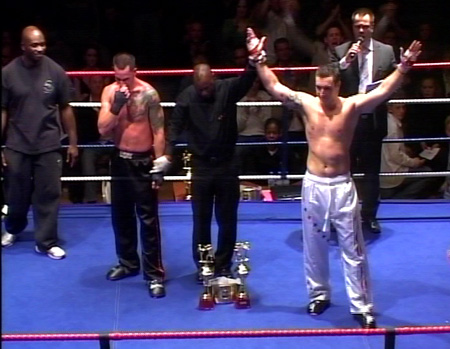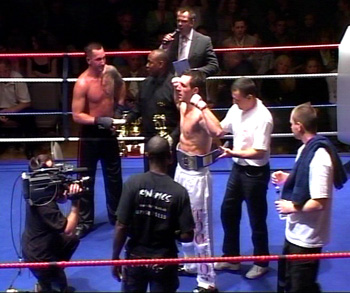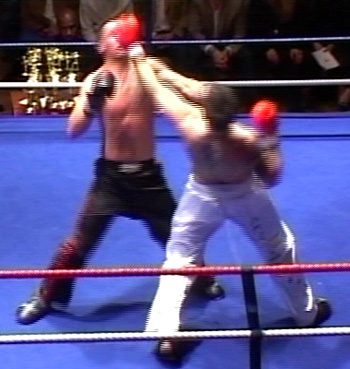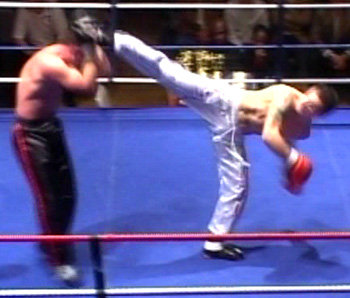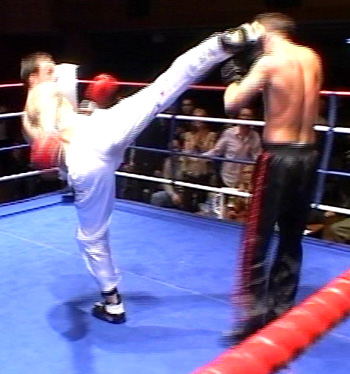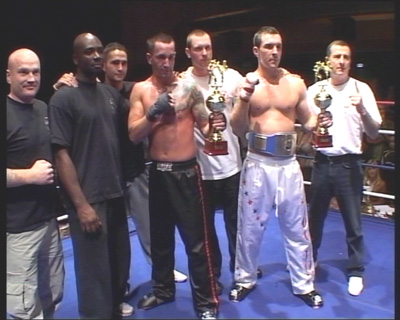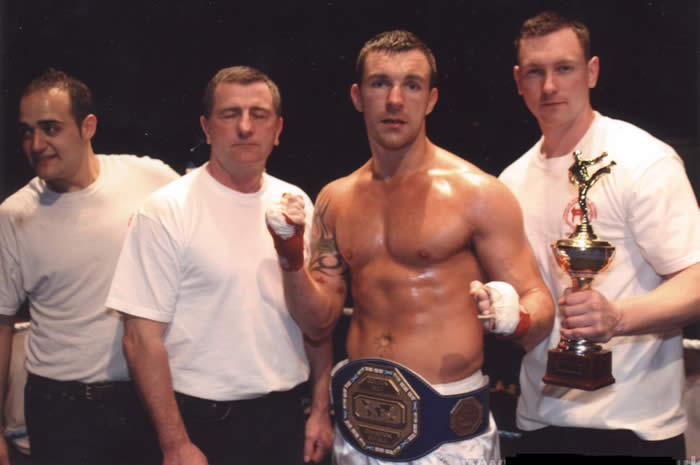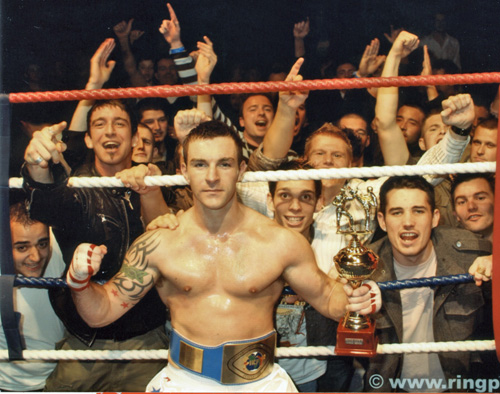 Scott won his fight against Andy Pollard from Trevor Spencer's TS Kickboxing gym and is now the IKF Southern Area Champion Title holder. Andy Pollard is a very tough and experienced fighter and is the current WKA Title Holder, so he is certainly no mug and someone who came here to win.
It was 5 rounds of pure non stop hard hitting action from both fighters, when at the end of the 4th round Scott notched up the score by knocking Pollard down for a count of eight with a perfect placed roundhouse kick to the face. It was classed as the best fight of the night and was announced by the compare as "this is what kickboxing is all about" as well as being quoted as "the best fight of the year".
KNOCK DOWN KNOCK DOWN KNOCK DOWN KNOCK DOWN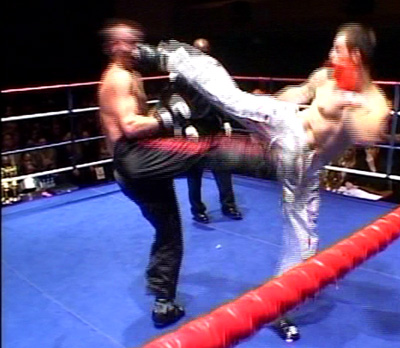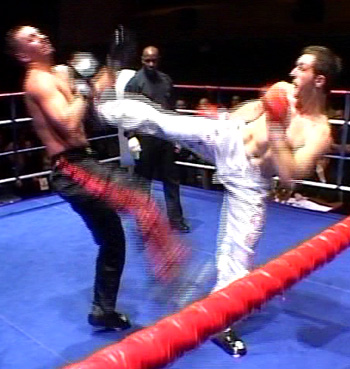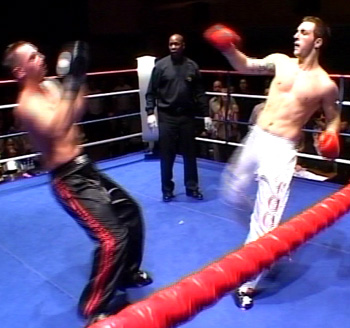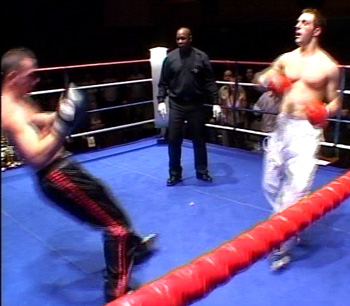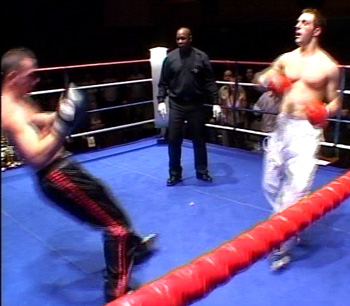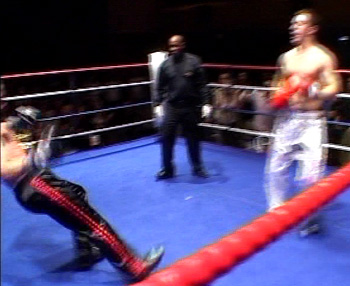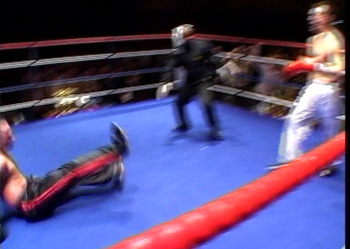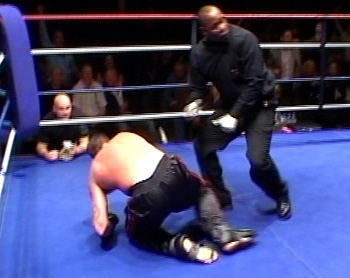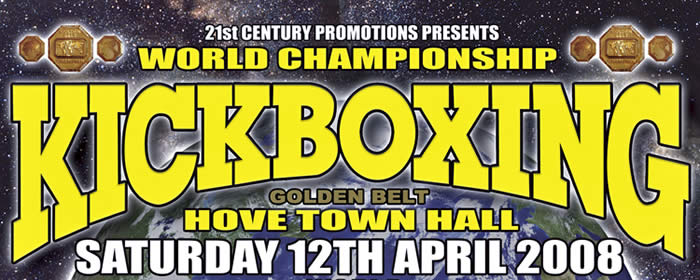 Scott Successfully Defends his British Title
against a tough Matty Martin from one of the Souths top gyms
On 12th April 2008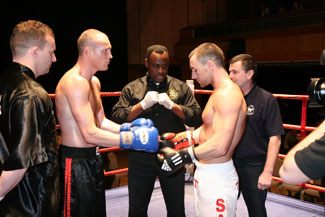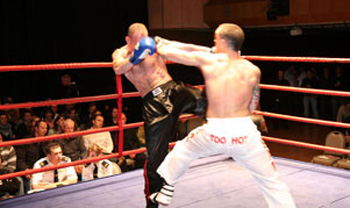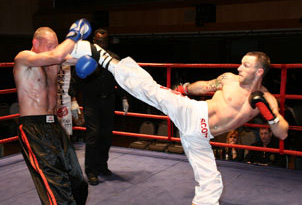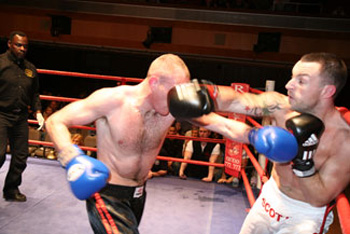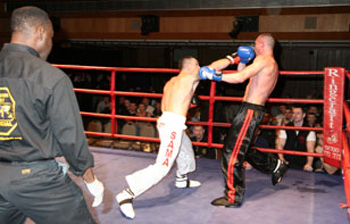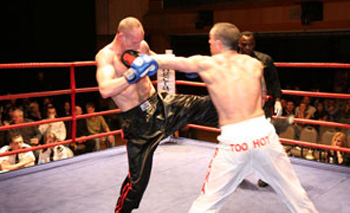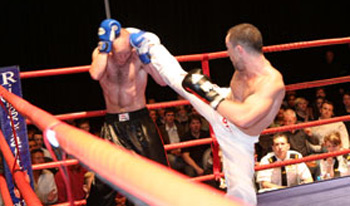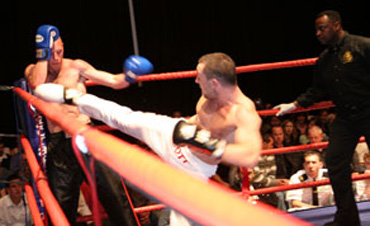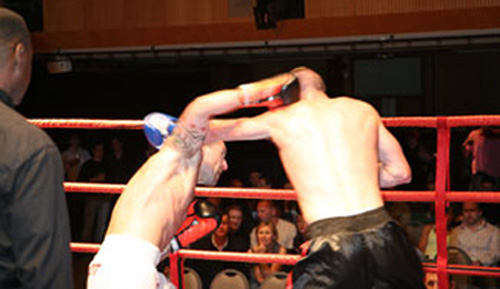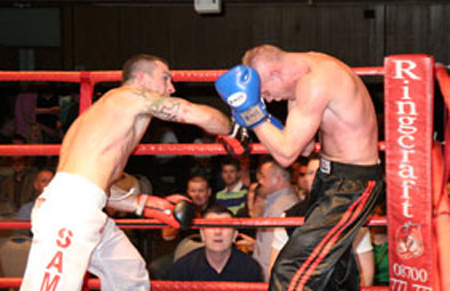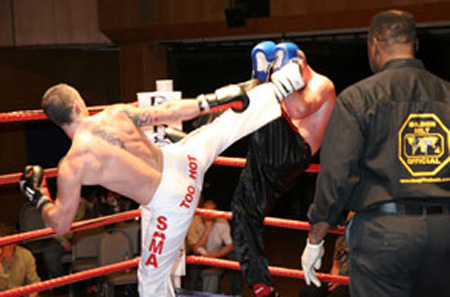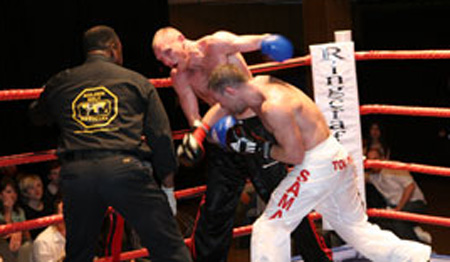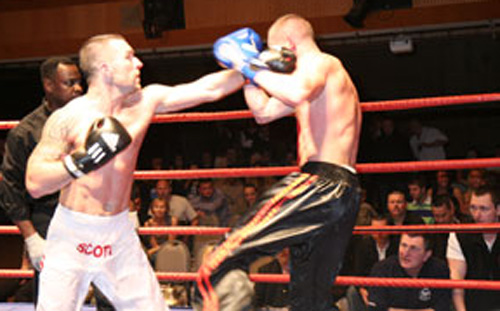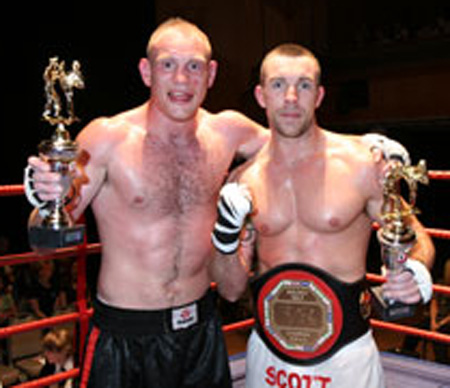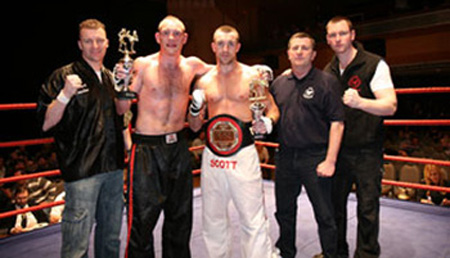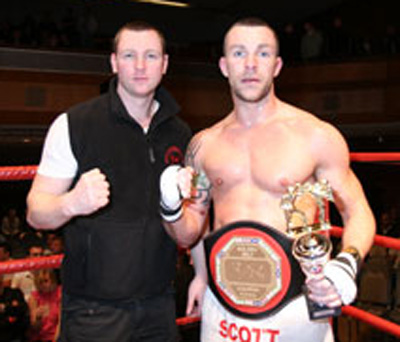 PROFESSIONAL FULL CONTACT KICKBOXING
SCOTT WINS AGAINST GORDON CHILD'S
AT HOVE TOWN HALL
AT THE WORLD KICKBOXING CHAMPIONSHIP FIGHT NIGHT
13th MAY 2006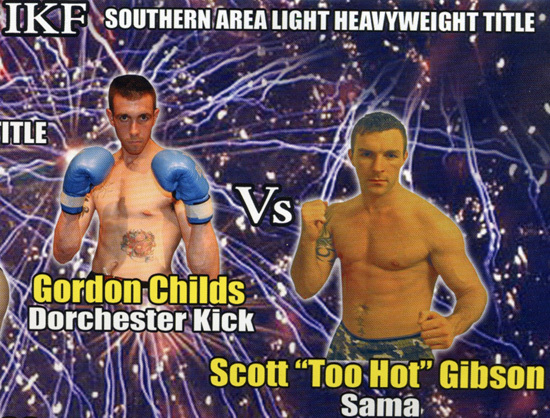 DORCHESTER KICBOXING CLUB.
SCOTT WON THE MOST EXCITING FIGHTER TROPHY OF THE NIGHT.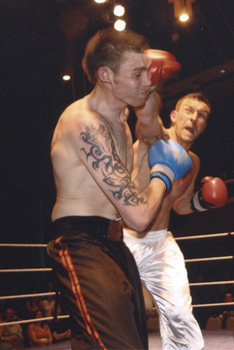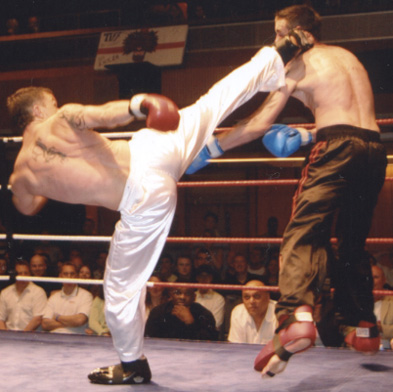 SCOTT HITS CHILDS WITH A POWERFULL ROUND KICK LIFTING HIM OF THE CANVAS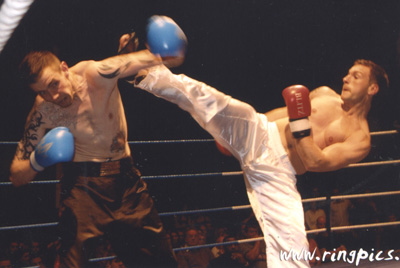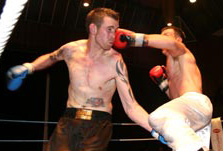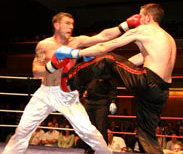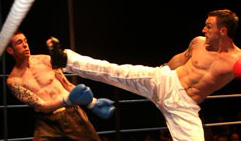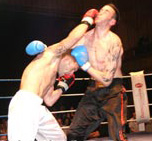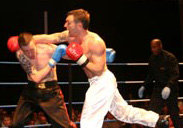 VOTED THE BEST KICK OF THE NIGHT
A jumping back spinning hook kick to the head taking Child's hard down to the canvas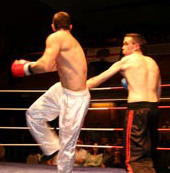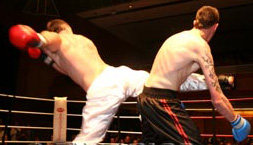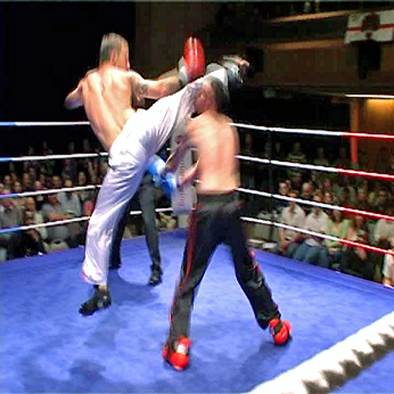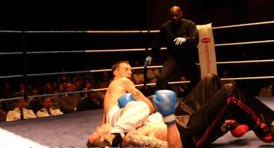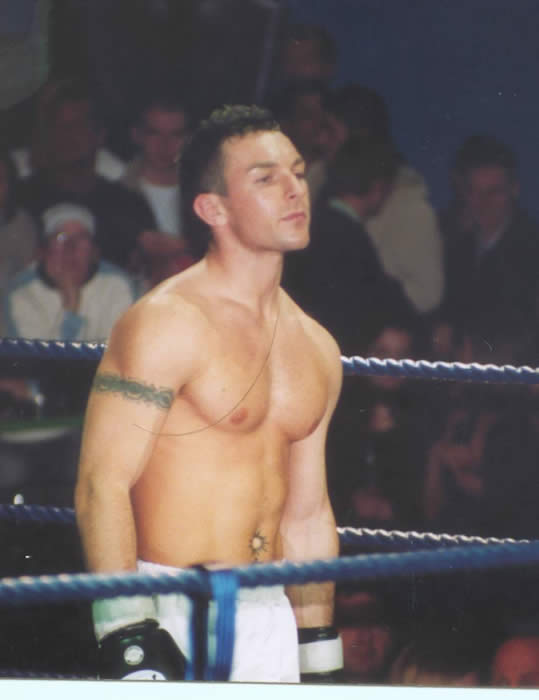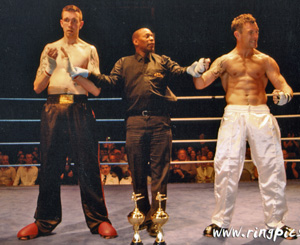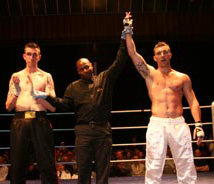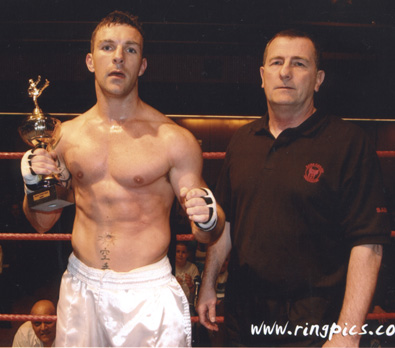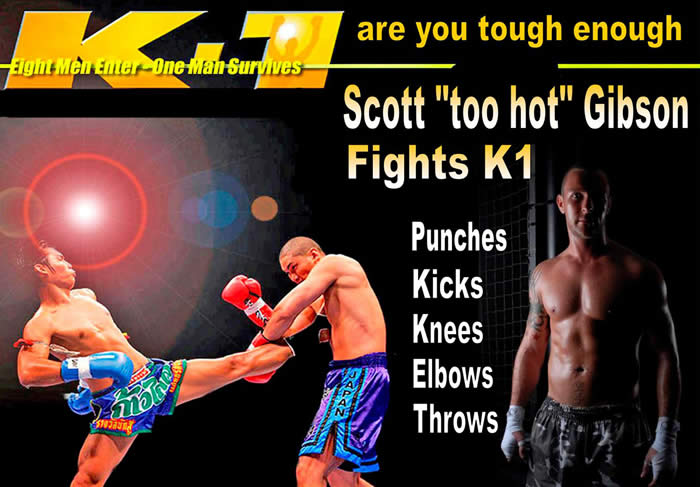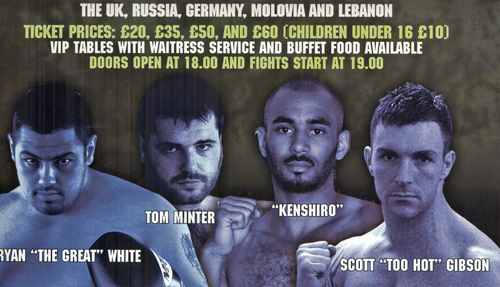 SCOTT WINS AGAINST THE TOUGH RUSSIAN CHAMPION
"THE HAMMER OF MOSCOW"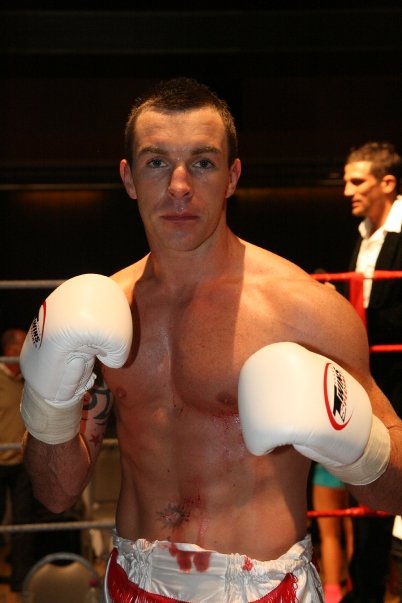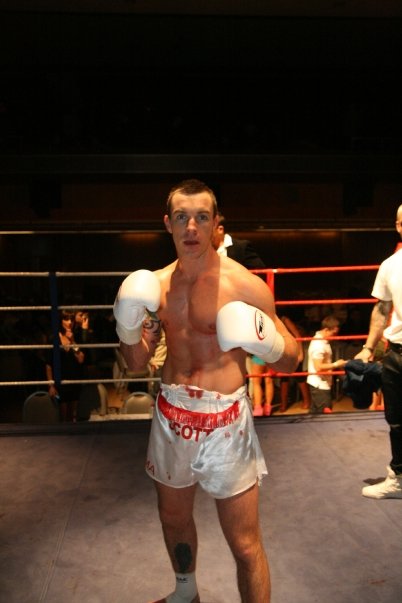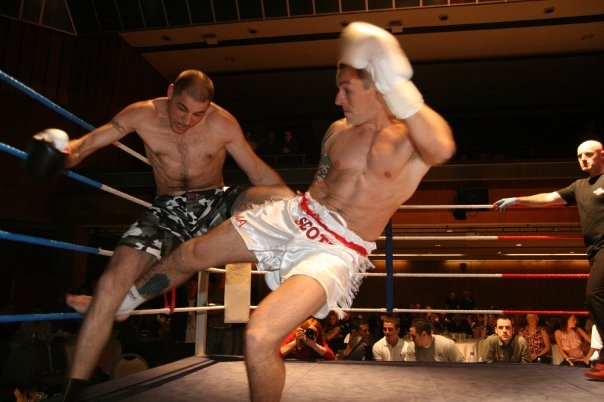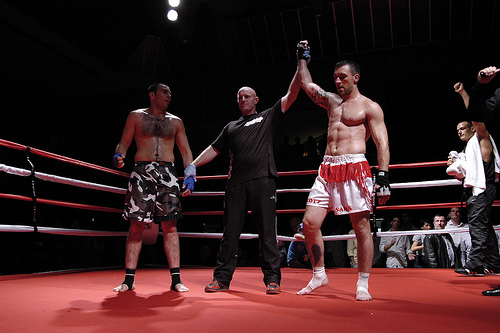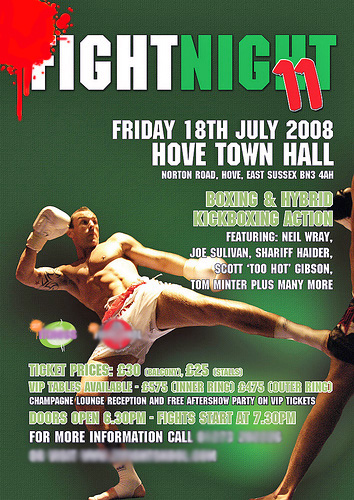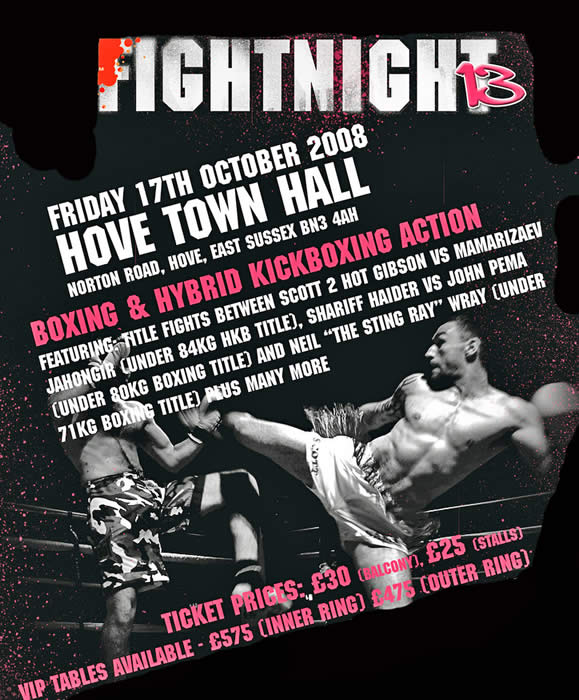 K1 SUPERFIGHTS
13th FEBRUARY 2006, SCOTT WINS BY TKO
AT THE K1 SUPER FIGHTS LONDON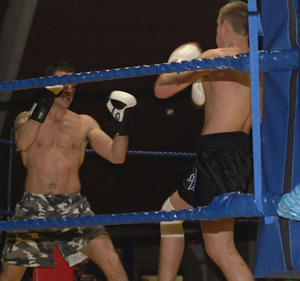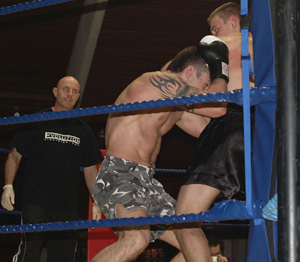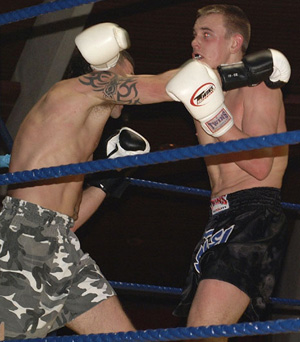 K1 Fight-Night Championship
Hove Town Hall on Saturday 22nd July 2006
TOP OF THE BILL
Fighting 4 x 3 minute
Scott was up against an extremely hard and experienced top rated Thai boxer from one of London's premier Thai boxing gyms. Scott's opponent the top man of his gym who was out to seek blood and revenge to regain back the honour for his club and his club mate that Scott had knocked out on a previous fight within a few minute's of entering the ring. Classed as the top fight of the night, it certainly lived up to all expectations and hype. One of the hardest and most exciting fights seen for a long time in the K1 Kickboxing ring.
SCOTT WINS BY UNANIMOUS DECISSION
A GREAT FIGHTER HAS TO BE ABLE TO TAKE IT, AS WELL AS GIVE IT!!!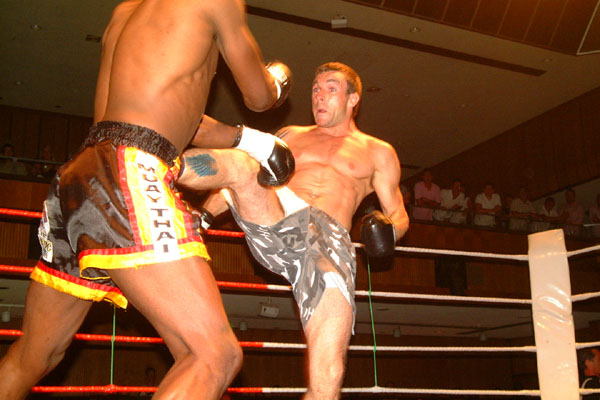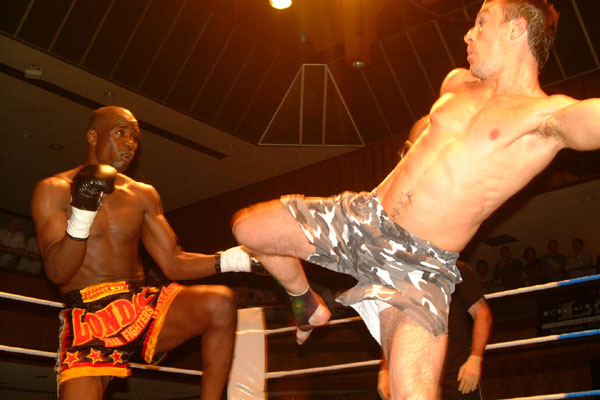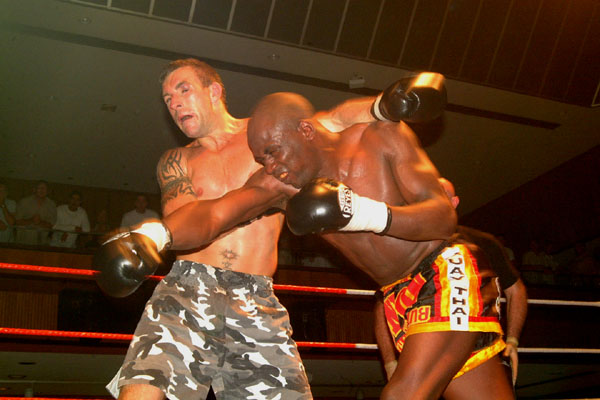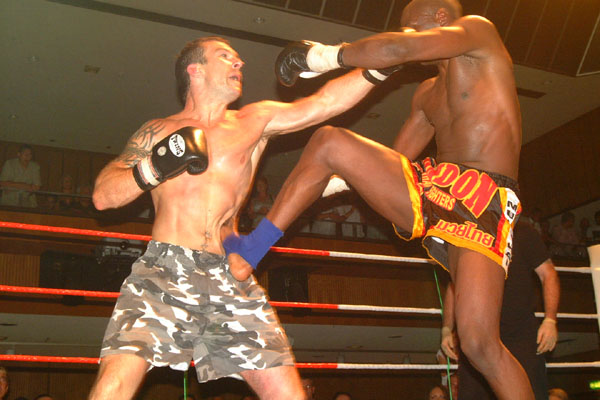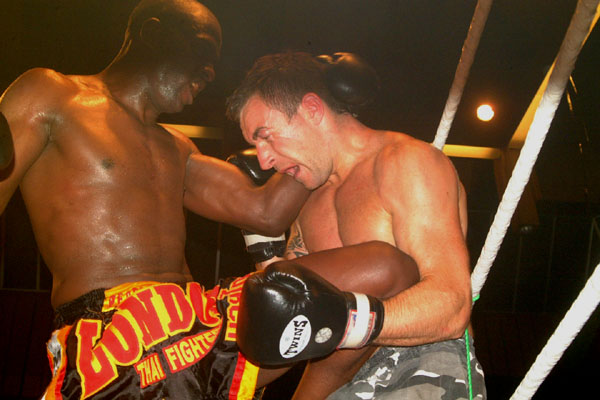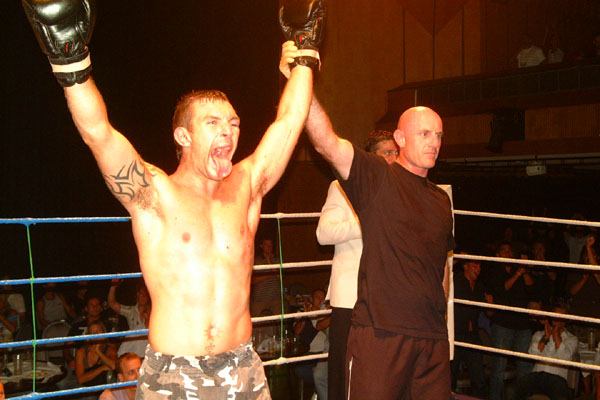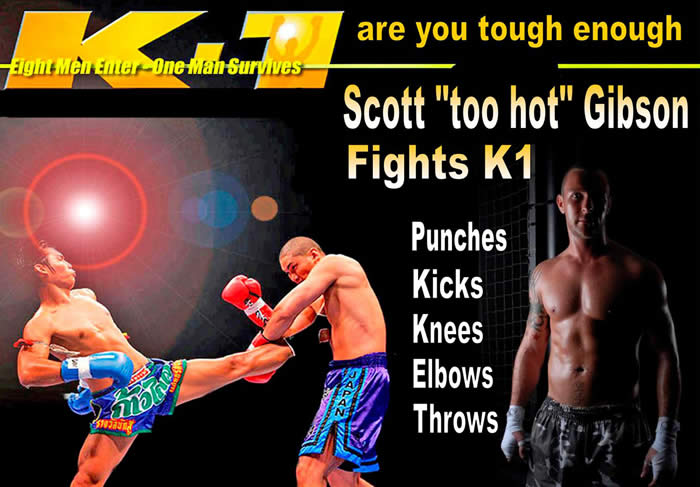 K1 KICKBOXING IS MORE PHYSICALLY HARDER THAN AMERICAN STYLE KICKBOXING
THE K1 FIGHTER IS ALLOWED TO USE KNEE STRIKES, LOW KICKS & THROWS
CAN GRAB YOUR OPPONENTS KICKING LEG AND SWEEP HIS LEG THAT SUPPORTS HIM
IT'S LIKE THAI BOXING
Scott shows his true grit and power
fought K1 at the Hove Town Hall, East Sussex on Friday 17th against David Simonek
Scott knocked down Simonek 3 times giving him 3 standing counts.
One time Simonek was only saved by the bell after Scott landed some heavy blows
Winner by unanimous decision, Scott Gibson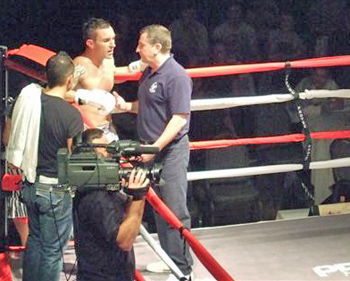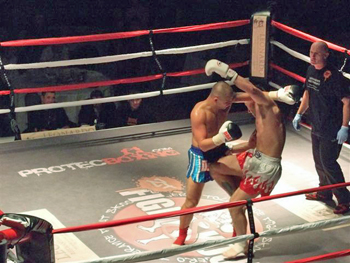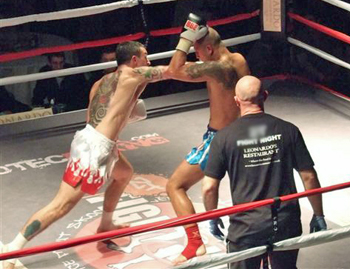 SCOTT'S JUMPING BACK KICK K1 KNOCKDOWN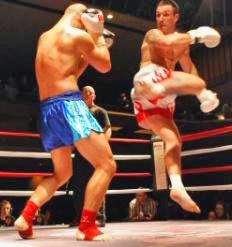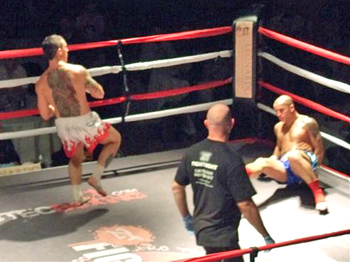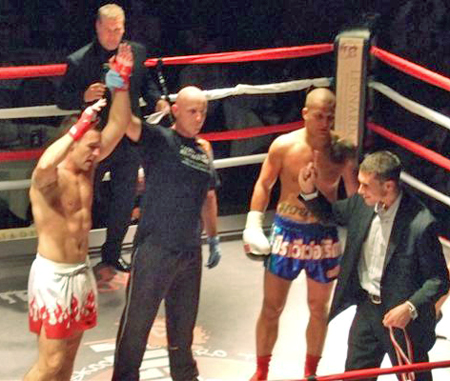 Doing some hard training in Thailand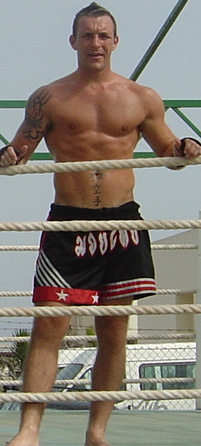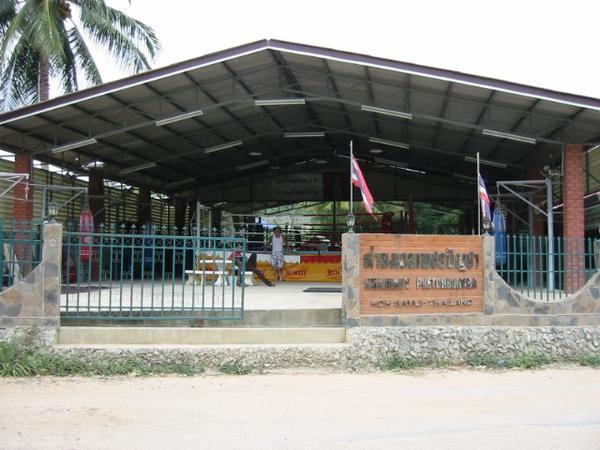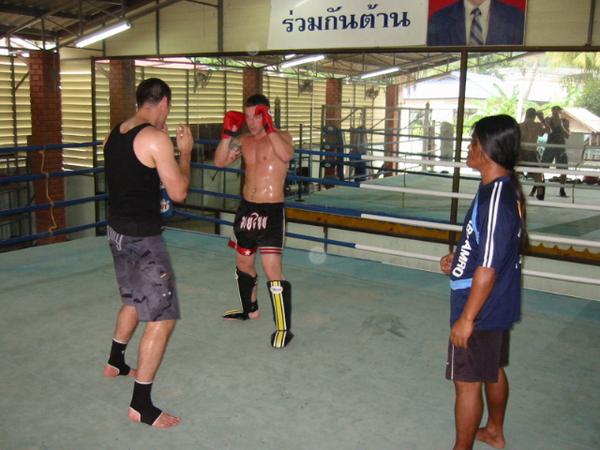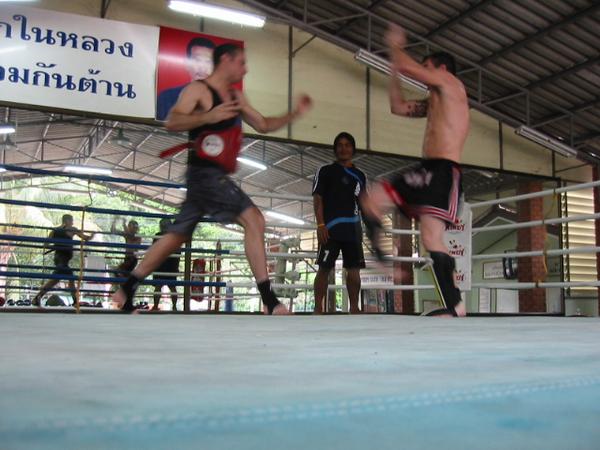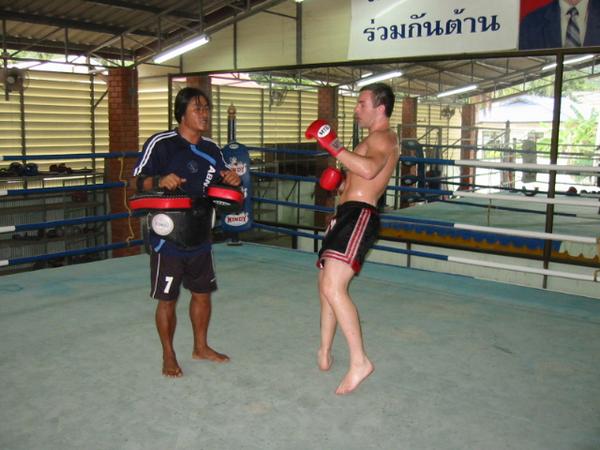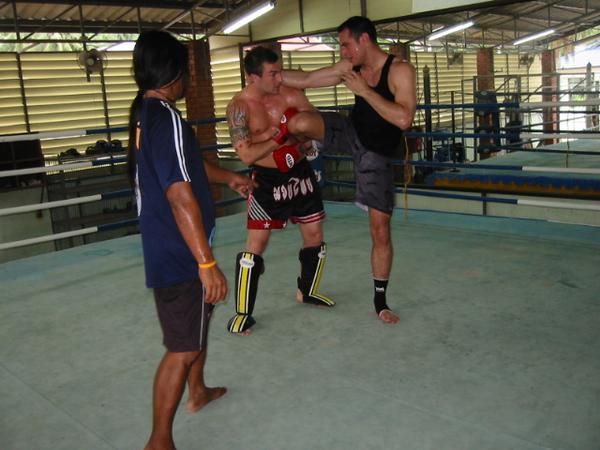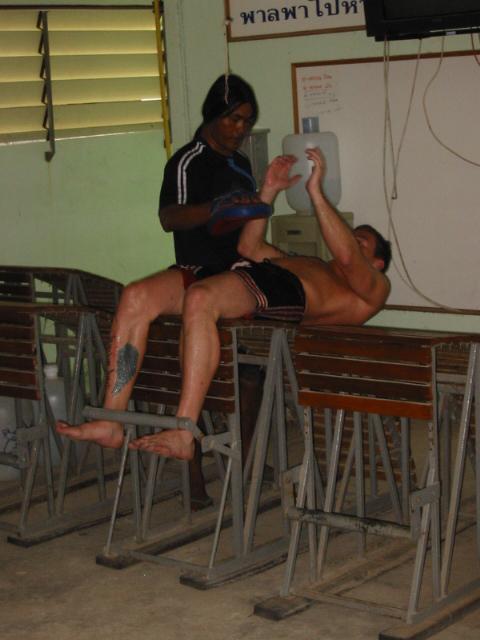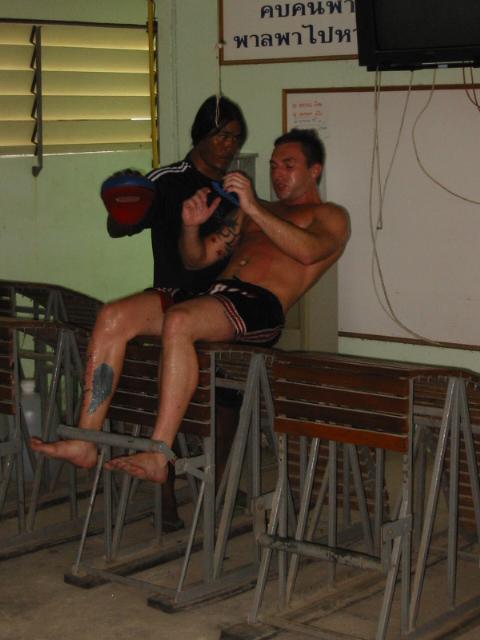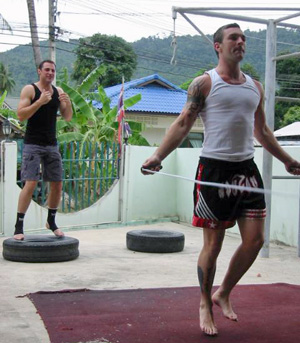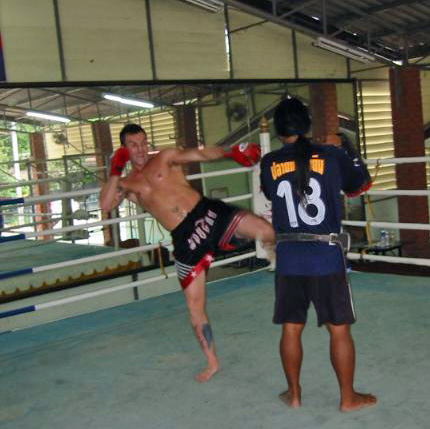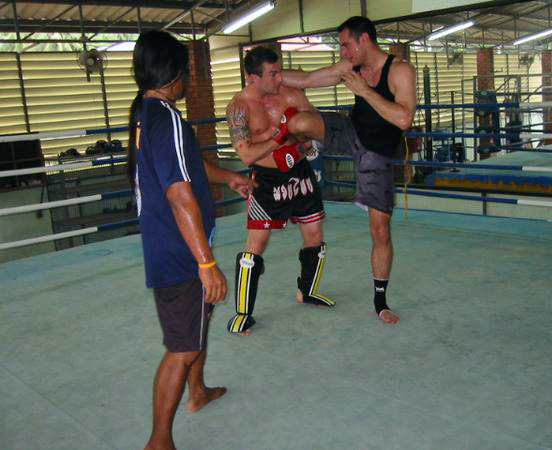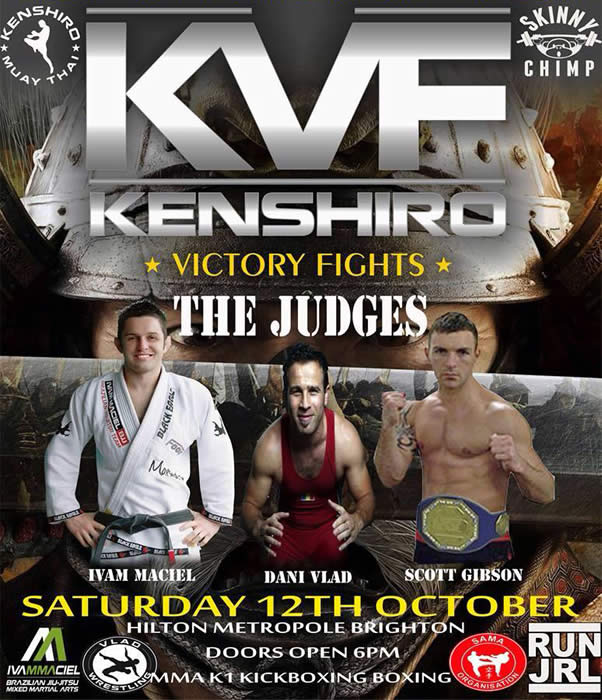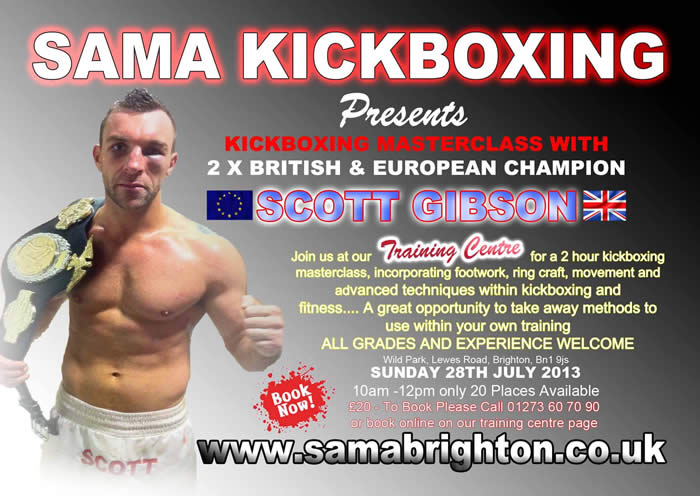 FIGHTING UNDER IKF RULES

Lee Gibson (Scott's Brother) of SAMA
Undefeated in 15 Full Contact fights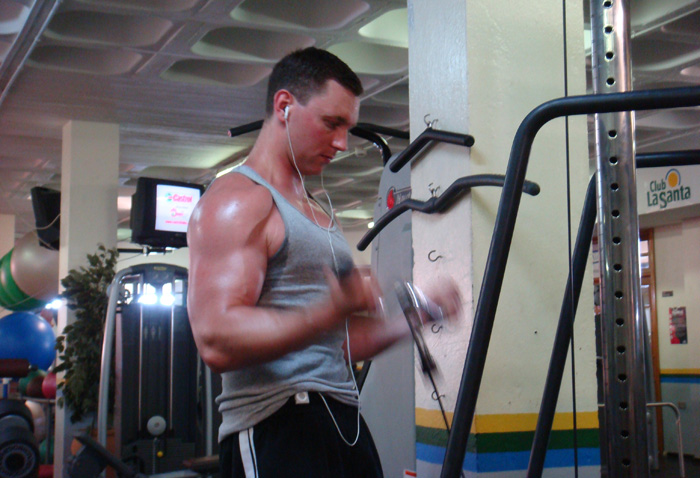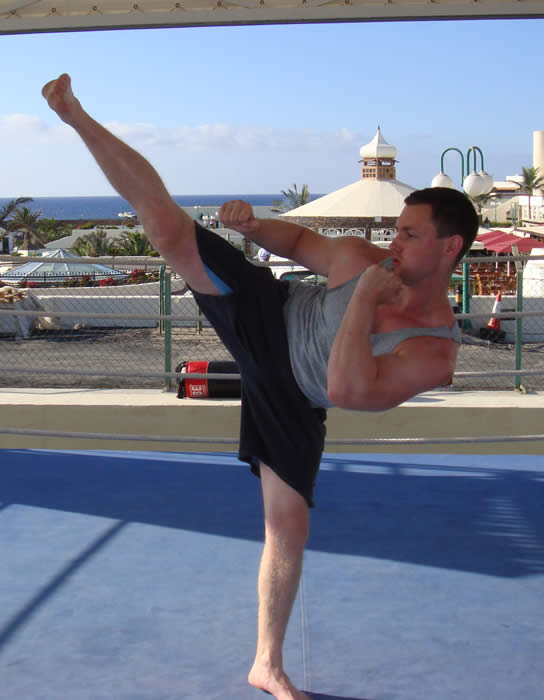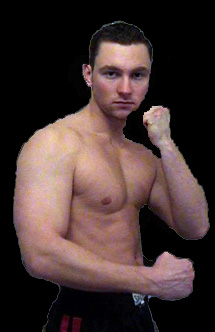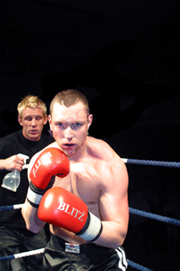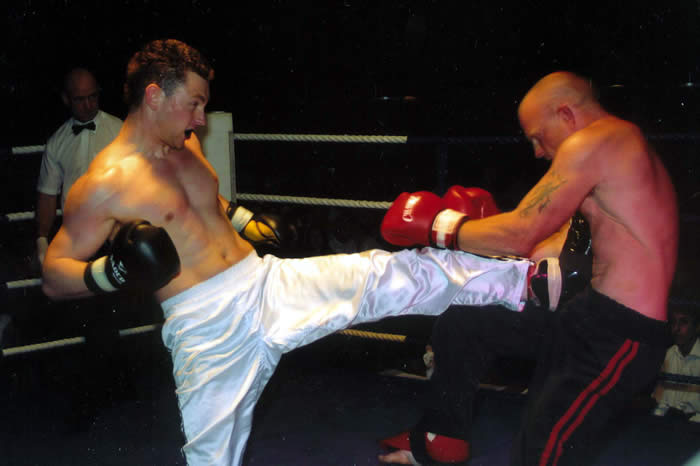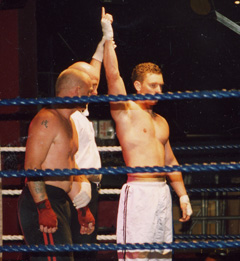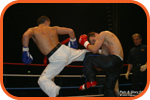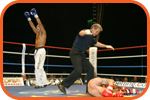 LEE GIBSON
AT HOVE TOWN HALL
CHAMPIONSHIP FIGHTS
13 MAY 2006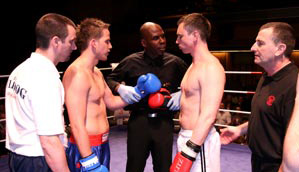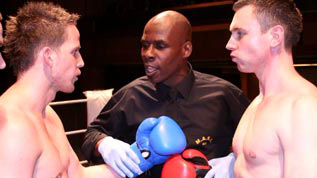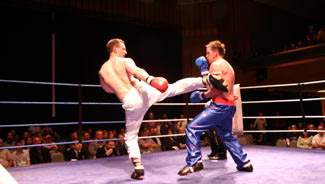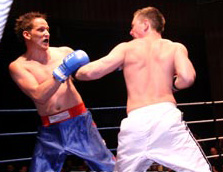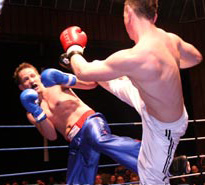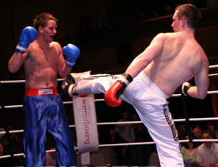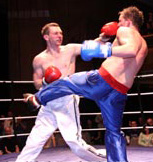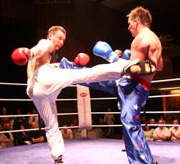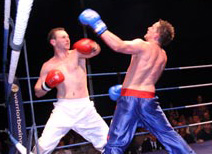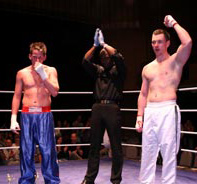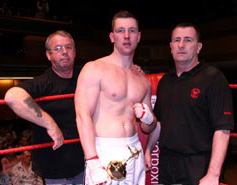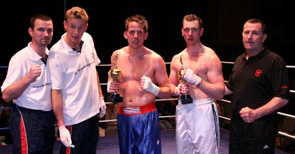 SOME NEWS FROM THE PAPERS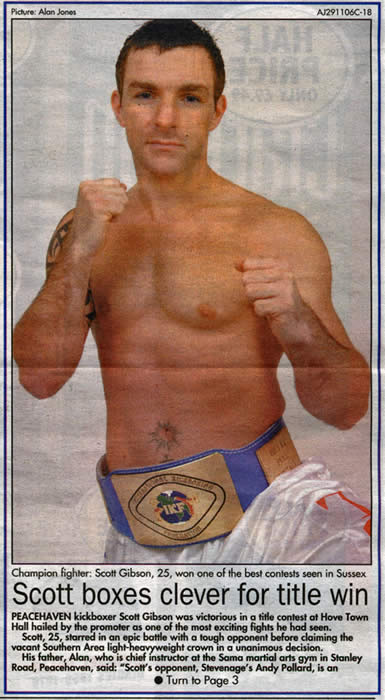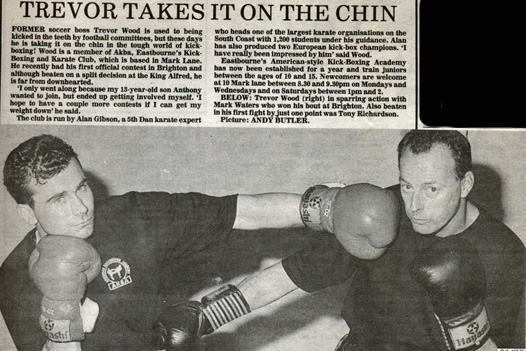 SAMA KICKBOXER MARK WATERS & TREVOR WOOD
MARK IS A FORMER WORLD & CURRENT BRITISH CHAMPION
TRAINED BY HANSHI GIBSON