SAMA KICKBOXING
Hanshi Alan Gibson head of the SAMA Organisation
Although I am a traditional karate man, I have also been involved in kickboxing since it first came to the UK around the mid 1970s by the P.K.A (Professional Karate Association)
I became associated with the P.K.A through my instructor, George Sfetas, who at that time was the President and representative of the European Branch of the P.K.A.
Since then I have trained with, and have met many famous World champions of the ring. Throughout my time in kickboxing I have trained 1000s of students and also had the privilege to train and produce, World, European, British and English and Southern area champions. It was around the mid 80s that Chris Kent and myself were approached to help coach the British kickboxing team to fight the Dutch team in Holland. We were also both the first in the South to hold championship title events, many being held at the Brighton Centre and Corn Exchange, East Sussex.
I believe Chris and myself were also the first in the UK to introduce a uniform, a grading system and specialist motivative music into kickboxing classes.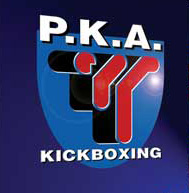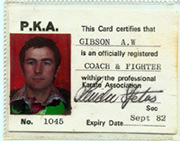 ONE OF MY OLD MY P.K.A. LICENCE'S FOR THE YEAR OF SEPTEMBER 1981 to SEPTEMBER 1982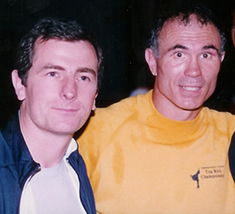 Seen with the greatest kick boxer of all time, American and World Kick Boxing legend, Superfoot Bill Wallace, the world's most famous known kick boxer.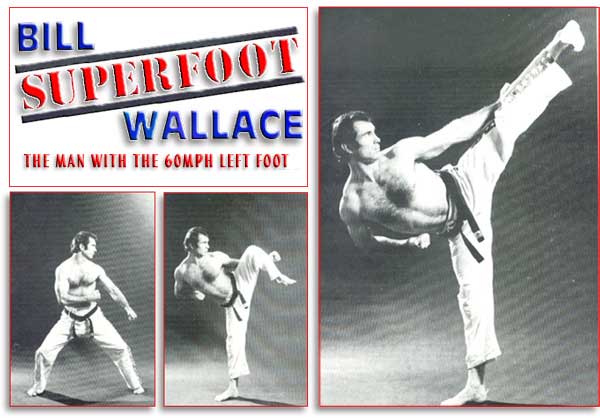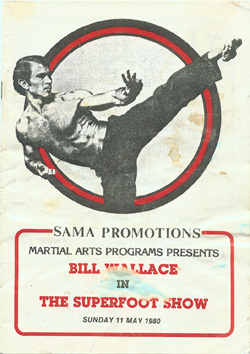 His kicking speed has been clocked at 60 mph!
Previously a karate man, Bill Wallace retired undefeated World Professional Kick Boxing Champion with 23 straight wins, many by knockouts with his famous left foot. Active in the film industry with credits in many films such as: "A force of One" with Chuck Norris; "Kill Point" with Cameron Mitchell; "Continental Divide" and "Neighbours" with John Belushi; for whom he acted as his personal trainer and bodyguard; "Protector" with Jacky Chan; "A Prayer for the Dying" with Mickey Rourke; and "Ninja Turf" and a "Sword of Heaven"
SAMA HAS ALWAYS PLAYED A MAJOR ROLE IN KICKBOXING IN THE UK. THE SAMA PROMOTIONS PROGRAMME FROM 11th MAY 1980. SAMA ARE THE FIRST TO BRING THE LEGEND OF KICKBOXING "SUPERFOOT WALLACE" TO THIS COUNTRY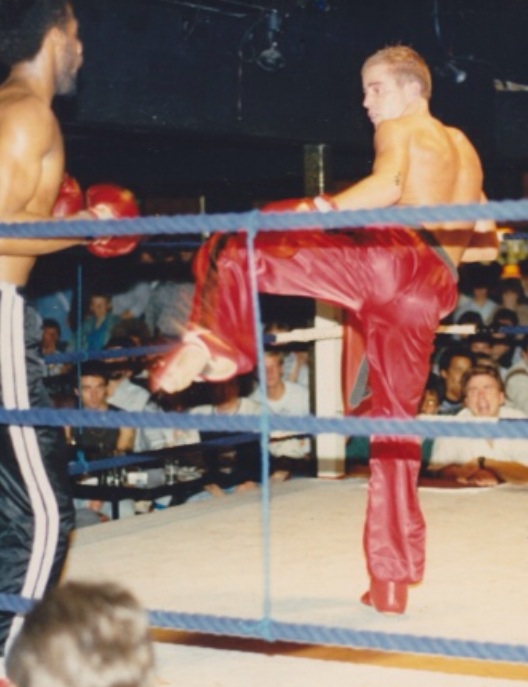 Philippe Von Lanthen
One of Hanshi's past kickboxing students Philippe Von Lanthen became a successful stunt man in America and has been in many big block busters movies
He became a PKA-Amerikick Kickboxing Champion in his 20's, successfully fought in Europe & in the US attaining a #10 World-ranking.
To access is page go to: www.fonduestunts.com
THE START OF THE PKA AND KICKBOXING 1974